May 14, 2020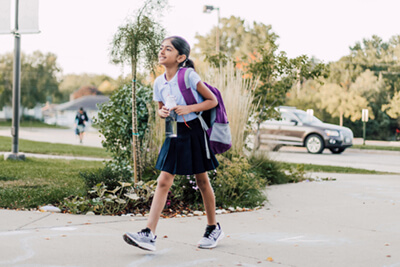 by Dr. Bill Hudson, Head of School
"You've got to be very careful if you don't know where you are going, because you might not get there." -Yogi Berra
With more frequency as of late, I've been asked: What does the future hold for the next school year? With so much uncertainty about the pandemic, it is difficult to give a clear answer. However, while there is much we don't know, I can say that MPA will be prepared for any eventuality. I think what humorist and baseball great Yogi Berra meant in the quote above was that without a plan, you are never going to make progress. As we look to next year, I want to assure you that we indeed have a plan.
Uncertainty about the future can make planning feel daunting. However, envisioning various possibilities can help us prepare for the worst—and best—scenarios and everything in-between. Our board of trustees, working together with the administrative team, has been actively engaged in scenario planning considering the macroeconomic indicators and trends in order to mitigate risks and capitalize on opportunities. We are also preparing a number of contingency plans for the start of the new school year that first and foremost prioritizes the health and safety of our community. We know that we must always be nimble, agile, and communicate clearly.
We will be prepared to return to campus and in-person learning in August. We will also be prepared to resume school on campus, but with significant preventative and protective health measures in place. However, it is also possible that due to the ongoing pandemic, we will need to delay the start of school or begin the school year in virtual school (completely online) in August. We may also have to manage intermittent closures in fall and winter, forcing us into virtual school. Although we are planning for all of these possible scenarios, our priority is for the PreK-4 grades in particular to return on-time and in-person with safety measures in place in the fall. We're also exploring the possibility of offering Panther Camp for July and August, depending upon how the executive orders change. Whatever the next school year looks like, it will be thoughtfully implemented and always in accordance with the requirements of state and local public health professionals.
In mid-February, before we knew the full extent of the virus, we activated our crisis management plan and instituted a risk matrix that detailed potential responses to the worsening crisis. Anticipating and mitigating risk is a key aspect of our planning and we continue to append the matrix to include new information and recommendations from the government and health professionals. We are actively addressing the risk points to ensure the community's health and well-being and institutional vitality.
Yogi Berra also said, "When you come to a fork in the road … take it." You can expect that regardless of which scenario becomes our reality, we will operate with necessary preventative and protective health measures in place, appropriate social distancing protocols that reduce building and classroom density, intensified cleaning and sanitizing processes and protocols, campus access that protects the health and safety of the community, and clear and transparent communication.
And, you can continue to expect and rely upon academic excellence uniquely delivered in a close-knit community. Whether on campus or in virtual school, students will continue to enjoy a rigorous, whole-child curriculum in keeping with the mission and values of MPA. With the distinct possibility of returning to virtual school at some point in the school year, throughout the summer teachers will engage in training and professional development to enhance and fine tune their ability to design and deliver an educational experience that fosters the academic, social, emotional, physical growth, and development of each student.
So, what does the future look like on the other side of COVID-19? Much is unknown, yet it is highly unlikely that we as a society will return to exactly the way things were before. This pandemic has changed the way we live, work, and approach teaching and learning. We have changed and our world has changed. For some, disruption and discomfort lead to complacency and the status quo. If framed correctly and addressed from the proper mindset, however, disruption and discomfort can instead inspire and spur exponential growth. In the period after COVID-19, we will look back upon this time not only as a crisis, but as an era of creative reimagination.