May 21, 2020
by Dr. Bill Hudson, head of school
Many years ago I had my first opportunity to speak at a national conference. The meeting was held in Baltimore and I found out that my favorite high school teacher, Br. Jim, lived nearby and was going to be in attendance. I was able to track down his email address and wrote to him, sharing that he was my favorite teacher and the reason I decided to become a teacher. I also asked if he would like to get together for lunch while I was in town. Br. Jim was principal of my high school and had stepped into teaching a ninth grade class at the last minute. He was an amazing storyteller had a way of teaching that made each student feel that he was talking directly and personally to them. Br. Jim was gentle, kind, and brilliant, too. He never talked down to us and found ways to bring all of us along, inspiring us to higher levels of critical thinking. After that year, he moved on to a new job and a new city yet I never forgot him.
Br. Jim accepted my invitation and we met for lunch. As he entered the restaurant, it was clear he didn't know who I was. Sheepishly, he admitted as much and said he had been trying for weeks to remember me, even pulling out an old yearbook to jog his memory. He said he was embarrassed and began to apologize profusely. I stopped him and that I was not at all offended. To me, what was important was not that he would remember me—it was that I remembered him. He had hundreds if not thousands of students over his career. But for me, there was only one Br. Jim.
All teachers aspire to having such an impact on our students. Of course, teachers strive to be their best, to employ the very best pedagogy, techniques and strategies, and excel in their respective academic area. However, and more importantly, they strive to touch the hearts of their students. Teaching as a career is much more than a job or a transaction between employer and employee. It is transformational. I can safely say that our retirees this year have been transformational in the lives of their students and in the history of the school.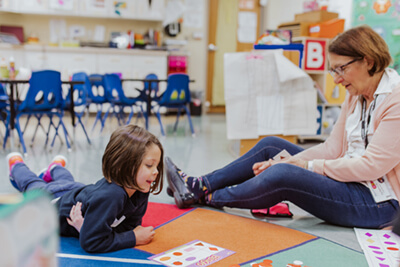 This year, we bid adieu to several teachers who have left their mark on the school and upon countless students. After 34 years, physical education and health teacher Bev Docherty is retiring and relocating to Florida. Martha Castellanos, Lower School Spanish teacher, retires after 44 years of teaching. Patricia Reinhardt, assistant PreK teacher, retires after three years with us.
Patricia Reinhardt has been a valued member of our PreK team for the past three years and has also assisted in our morning Panther Club program. Her colleagues say that she is a joy to work with, flexible, and always willing to help out when needed. Pat brings so much joy and support to our students and it is not uncommon to see a little one curled up in her lap.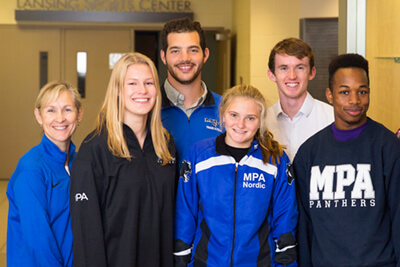 Bev Docherty has taught and coached at MPA since 1988. Over the years, she has taught physical education at all levels, has coached Middle School basketball, cross country, and began the track and field program at MPA. I was surprised to learn that Bev also served as the school's athletic director for two years in the late 80s before moving to part-time teaching to raise her family. Bev's colleagues speak of her humility, kindness, and willingness to help whenever needed. Fellow physical education teachers laugh at the fact Bev is constantly recruiting kids for her track and field program at whatever age they show some promise in physical education—even if they are in first grade. For a small school, the track and field program has been tremendously successful, sending more than 80 athletes to compete at the state level.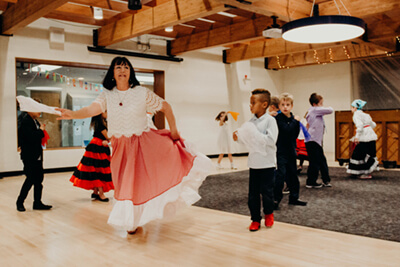 Martha's passion for teaching Spanish is unprecedented. She has dedicated her life to teaching children in three different countries for more than 44 years. Her commitment to MPA over two teaching tours and 32 years has been remarkable and has been a key member of the World Language department since the early years of the school. Martha was the founder of the Lower School Spanish program and designed some of its most famous activities, including the Little Red Hen play and the fashion show. Her vast experience, strong work ethic, and love for her students have guided her work over the years. Martha's colleagues value her expertise, creativity, and enthusiasm for every aspect of language teaching. She brings the 'fun' to every meeting, is the best cook around, and selflessly shares everything she has with her colleagues.
It has been our tradition to celebrate our retirees at a reception at the end of the school year. Due to the COVID-19 pandemic, we have postponed that event until the fall when we can gather in person to celebrate the accomplishments and impact of these amazing individuals. In the meantime, please feel free to reach out to them by email or by a personal note or card sent through the school.
You are also welcomed to make a gift in honor of Bev, Martha, or Patricia to the Luminare Fund. Created in 2017, the Luminare Fund honors the legacy of MPA retirees by fueling the interests and passions of their colleagues. It funds programs, opportunities, events, and services that directly benefit our exceptional faculty and staff and demonstrate the high regard and deep appreciation the MPA community has for them.
I am honored to have served with Pat, Bev, and Martha and thank them for their years of selfless service to MPA students.