May 27, 2020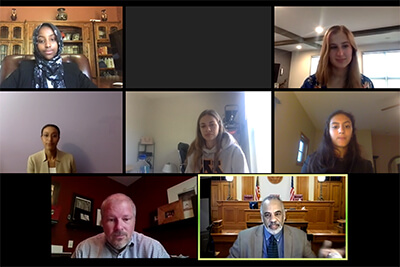 This year was the 17th annual MPA Constitutional Law oral arguments! Each year the Con Law senior elective culminates with students presenting oral arguments before legal experts in an actual courtroom. They choose a federal case that has been appealed before the US Supreme Court, prepare extensive written briefs which are submitted a week in advance, then appear before a panel of three judges to make their case. Afterward, each judge gives the students feedback.
This year, however, the seniors took a page out of the MN Supreme Court's playbook and held virtual oral arguments. The students were split up into breakout rooms on Zoom, and conducted their oral arguments in the same way they would if the event was taking place in person. When asked if they enjoyed themselves, one senior responded, "Yes, but I was still nervous, even over Zoom!"
The judges this year were made up of MPA alumni, parents, and MN Court of Appeals Judges. The day could not have happened without their time and support. We want to extend a special thank you to MN Court of Appeals Judges Judge Jeanne Cochran, Judge James Florey, Judge Kevin Ross, and Judge Jill Halbrooks. A big thank you also goes out to the MPA parents who took time out of their busy days as practicing attorneys to serve as judges for the seniors: Nan Etzwiler, Gail Engstrom, Kevin Rhodes, and Steve Quam. Thank you to the MPA alumni who returned to judge the oral arguments they themselves participated in years ago: Kethan Dahlberg '14, Jenny Portis '16, Warsame Galaydh '06, Adam Pabarcus '03, Sam Bolstad '08, and Paul Shapiro '05. Lastly, thank you to Maureen Conway, MPA founding faculty member and retired Upper School History teacher, who started this event 17 years ago, and who was able to return as a judge this year.
"Every year, I am amazed with what our seniors do with the preparation of their briefs and oral arguments," shared Mike Vergin, Upper School history teacher, and who now teaches the Constitutional Law class. "They are considering cases actually being argued before the Supreme Court this session. One judge participating for the first time in a while commented that these students were every bit as skilled as those he works with in the moot courts at the law school at which he teaches. We literally have not seen each other since the day they found out which cases they'd be arguing. This is challenging enough in a typical year, but the Class of 2020 rose to the occasion and made it happen this year just as well."