June 11, 2020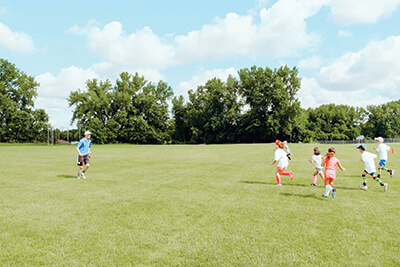 We are thrilled to have students in grades K-6 join us back on campus for summer fun at Panther Camp! While our time together is going to look a little different from previous years, our program goals remain the same: provide our campers with a high-quality, joyful, and engaging program in the context of a safe and healthy environment.
Panther Camp will run June 15-26 and July 6-August 14 from 8 AM-5:30 PM out of the Gallery and Nicholson Theatre spaces. You can register for daily, half-day, and weekly options. During camp students will explore nature, science, art, play, and do so much more.
To register for weekly Panther Camps, use the "create an account" or "login" tab and follow registration instructions. See additional information under the "Fees and Policies" link. Camp confirmation and details will be sent out upon registration.
Because of COVID-19, here are some of the changes we've made for a safe return to campus. Please know these measures are designed to provide the safest environment possible and are subject to change due to the evolving nature of the pandemic. They are based on recommendations by the Minnesota Department of Health and the CDC.
Panther Camp Operations in Response to COVID-19
No-contact drop-off: When entering through the Gallery doors, a staff member will greet campers and run through the symptom checklist with parents, including a temperature check. Once completed and cleared to enter camp, staff will direct campers to their area in the Gallery or Nicholson Center.
Area Assignments: Campers will be assigned to a consistent spot within the program space for indoor learning & activities. Campers will also be given an individually labeled materials bin for their supplies (markers, scissors, glue stick, etc.).
Density: Campers will be placed in camper cohorts with 8 campers maximum and 2 counselors. These cohorts will remain the same throughout the summer.
Masks: Campers and staff will be required to wear a mask while inside for Panther Camp. Masks will be supplied by program, or may be brought from home. When outdoors, we are prioritizing activities with appropriate physical distancing as much as possible.
Hand hygiene practices: Campers will wash hands or, when not near a sink, use hand sanitizer as they enter and exit camp. Hand hygiene will also be required when changing activities, eating, and regularly throughout the day.
No-contact pick-up: Parents/guardians will be greeted by staff at the Gallery doors for student pick-up.
These precautions and procedures are based on recommendations by the Minnesota Department of Health and the CDC.
Questions: If you have any questions about Panther Camp, please contact Russ Purdy, Extended Day & Summer Program Coordinator, at rpurdy@moundsparkacademy.org or 651-748-5571.
Summer Sports Camps Start July 6!
COVID-related safety measures have been developed for each individual camp and may be found at the links below. All participants must adhere to six-foot physical distancing while on campus, participants will sanitize their hands throughout camps, coaches will conduct a daily symptom check (including temperature taking) on all participants, and spectators/parents are not allowed inside the building.
Questions: If you have any questions about Summer Sports Camps, please contact Dan Haase, Athletic Director, at dhaase@moundsparkacademy.org or 651-748-5630.
Register for Soccer Camp, Grades K-6.
Register for Basketball Camp, Grades 4-9.
Register for Volleyball Camp, Grades 5-8.