July 21, 2020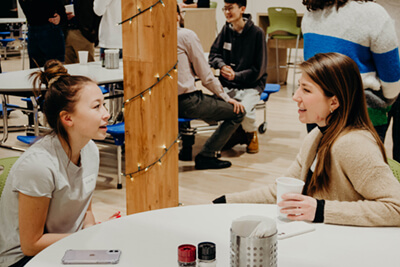 The MPA Alumni Mentorship Program completed its second year full of meaningful connections and a successful networking event to conclude the year. The program is designed to enhance personal and professional development experiences for our senior class students, while also providing alumni with an opportunity to reconnect to MPA and share their own experiences and knowledge with the next generation of graduates.
The program connected alumni like Dorothy (Schilling) Tiernan '02 and Grace Holloway, senior from the Class of 2020, with their common interests of literature and travel. Read more about their experience here.
Lyndon Lyu '20 had dreams and aspirations of becoming a pilot, and through the MPA Alumni Mentorship Program he was able to create a connection with Matthew Navarro '04 who is currently a professional airline pilot. Read more about their involvement in the program here.
The MPA Alumni Association is seeking Alumni mentor volunteers for the 2020-2021 mentorship program. While the time commitment is very manageable as a volunteer, the impact on students is immeasurable. To learn more about the program, or to volunteer, please contact Ashley Goetzke at  agoetzke@moundsparkacademy.org.