August 18, 2020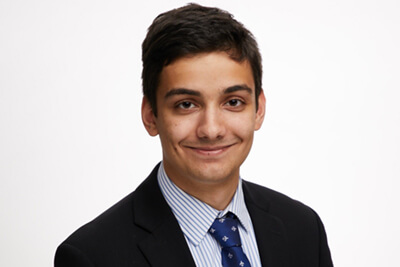 During his time at MPA, Kethan Dahlberg found his home-away-from-home. From early morning jazz band rehearsals and Nordic ski practices to late night track meets and study sessions for group projects, MPA taught him the importance of teamwork, perseverance, grit, and, importantly, the value and benefit of being an active and engaged member of the community. "Now, reflecting as an alumnus, and especially given the past few months of lock-down orders and quarantines, I feel it's important for me to become further involved with my fellow alumni and the school to make sure the same strong sense of family and opportunities that I had during my time on campus remain in place for current students," he said.
After MPA, he attended Harvard and graduated in 2018 with a concentration in government, secondary in music and citation in Spanish. He also pursued a variety of internship opportunities in various levels and branches of government. While he ultimately hopes to end up back in public service someday, he applied for his job with a private law firm before law school to see the other side of the coin and gain some insight into how businesses operate from a legal perspective.
"Conversations with mentors and peers that started at MPA and continued throughout college have always encouraged me to dream big and have ambitious professional goals but also at the same time be willing to take a flexible approach and pursue opportunities that may not on paper seem like the natural path to reaching your ultimate end goal," he said. "MPA taught me to think independently, communicate effectively, and act with respectful and integrity. In the classroom, I learned to fine tune my persuasive writing skills and to be confident in voicing my opinions while also being open to new ideas and ways of thinking–skills I use every day at work. And in the building where students K-12 and adults regularly interact with one another, the MPA community really helped me hone in on developing those soft skills needed to create considerate and valuable relationships with others – skills you can't pick up from a textbook but that are crucial to both academic and professional success."
Kethan currently lives in New York City and works at Sullivan & Cromwell as a legal assistant. He is also in the process of applying to law school and plans to matriculate in the fall of 2021. He names Ms. Conway's constitutional law class and the passion with which she taught as an avenue for where he is today. He hopes to work with the Alumni Association Board to help build on the existing ties between current students, families, and alumni so that we continue to feel the strong sense of Panther Pride and can emerge from this pandemic with an even stronger sense of school community.