August 6, 2020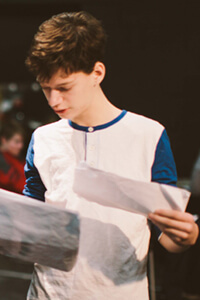 As the new school year approaches, the MPA Upper School Student Council launched their first issue of their new monthly newsletter! Named "The StudCo Scoop," it will be sent out to all Upper School students and faculty on the last Friday of each month and will include updates on school-wide activities. "Learning to navigate this new learning environment will require diligent communication, and that is what we hope to accomplish with this publication," they said.
In their July issue, they shared a sneak-peek of the Student Council's plans to stay engaged and connected this fall, including:
Club of The Month: ​We know that club leaders and members facilitate important dialogue, create safe spaces, and their efforts strengthen our community. To recognize creativity, consistency, and commitment, Student Council plans to introduce a monthly prize that awards exceptional extracurricular achievement.
Student-Run Podcast: "This American Life," "Serial," and "Pod Save America" better watch out because Mounds Park Academy Radio is coming out with a new podcast! Under the Student Council's leadership, we want to create a platform to highlight student interests and achievements and discuss the issues you are passionate about.
Monday Morning Memo: Even if we are on campus, it is hard to imagine congregating in the Upper School commons every Monday morning like we used to. Despite how different Monday Morning Meeting might look, Student Council wants to maintain a sense of community through a weekly online news segment, including student announcements and reminders on community events.
StudCo Schoology Page: To avoid inundating your inbox, a Student Council Schoology page will be established to locate all Monday Morning Memo uploads, Club of The Month awards, and other announcements.