September 10, 2020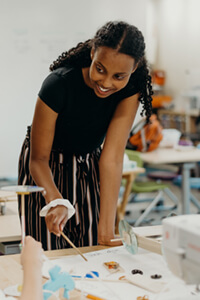 by Safa Madar, Class of 2022
Being a teaching fellow at Breakthrough Twin Cities (BTC) this past summer was one of the most challenging things I have ever done but also the most rewarding. I learned so much about myself and pushed myself way outside of my comfort zone. I made lesson plans, PowerPoints, worked alongside seniors in college, and through it all, I realized that I could accomplish anything I put my mind to. Breakthrough exposed me to a fantastic community filled with kind, passionate, and encouraging people who taught me so much. However, the best part was working with students. I was able to teach a wonderful group of seventh graders who truly changed my perspective on life and allowed me to grow a different kind of appreciation for my teachers.
One of my favorite memories was our seventh-grade west morning meetings. Morning meetings happened every day, where all of the students and teachers gathered for announcements and an energizer. Our energizer games and random debates we would have with the students never failed to make me laugh. Indeed the best way to start the day.
Another favorite memory of mine was prank week at BTC. Despite the virtual setting us teaching fellows were still able to have a week filled with laughter and pranks. We did things like singing happy birthday to random people, switching names on google meets, and speaking in code during faculty meetings. Needless to say that our seventh-grade west group won!
MPA is proud to partner with Breakthrough Twin Cities (BTC), a local, challenging academic enrichment program for highly motivated, under-resourced students, where all the teachers are high school and college students.