September 14, 2020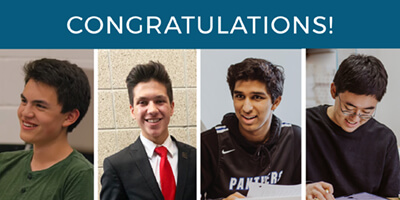 Congratulations to this group of MPA seniors! Isak Dai, Ryan Ghose, Dhruv Muppidi, and Sungjoon "Sean" Park have qualified as National Merit Semifinalists. They qualified based on their performance on the PSAT they took as juniors.
More than 1.6 million high school students from about 22,000 schools nationwide take the PSAT in October of their junior year. Those with the highest PSAT Selection Index scores are recognized by the National Merit Scholarship Corporation for their exceptional performance. These four students were honored this fall by the National Merit Scholarship Corporation, based on their scores on last fall's PSAT.
Semifinalists proceed in the scholarship competition by submitting their academic records throughout high school, endorsements and recommendations by a high school official, written essays, and SAT® scores that confirm their prior performance on the qualifier test. If they are named Finalists, they will be eligible for National Merit Scholarship opportunities. Over 90 percent of the Semifinalists are expected to attain Finalist standing, and nearly half of the Finalists will win a National Merit Scholarship.
These students have set and achieved their own high academic goals and standards at MPA, paving the way for success in college and beyond. We wish the best of luck to them!