September 9, 2020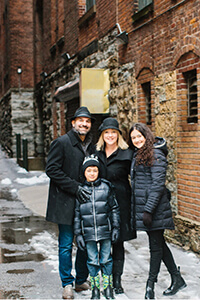 What did your journey look like from Chicago to MPA?
We moved to Minnesota from Chicago in 2019 for an exciting career opportunity and to explore a new state, having raised our family in the city for 12 years and then moving to the suburbs.
As a new family to the area, what made you choose MPA over the abundance of other educational options in the Twin Cities?
MPA spoke to us and to our children instantly. Having attended both private/independent and public schools previously; we appreciate the combination of academic rigor and whole child approach. Our children are well rounded with many interests and we wanted to continue to instill in them a joy of learning, an appreciation for the arts, and varied sports and recreational options while also challenging them academically. MPA was immediately our first choice (among many outstanding options) and we could not be more pleased with how much our children love it!
What would you tell another family relocating to the Twin Cities?
Do your homework, know what you want nearby and how you plan to live—and then call us! The Twin Cities are varied and there are many wonderful areas to live in. It took time and patience and we even had to commute for work for nearly a year, but in the end it worked out—especially finding MPA and seeing how much joy the school and community has brought to our family.

What do you love about MPA?
That it is truly a special place for children and emerging young adults allowing them be who they are while challenging them to "dream big and do right!" MPA's mantra really sums the school up perfectly.
How are your children encouraged to dream big and do right at MPA?
From our earliest encounters with MPA, through enrollment and our first school year in the Upper and Lower Schools, and even with the onset of a global pandemic; our children felt welcome, inspired and grateful to call MPA home. The teachers rallied in a new, foreign virtual world and worked hard to bring school to life at home for our children. While so many children struggled—or their school fell to the wayside, MPA made our children feel valued, important and a part of a community even while isolated at home.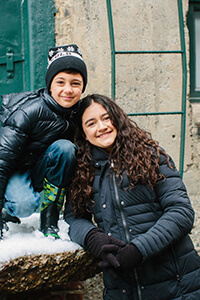 In what ways has MPA prepared your children for life in the 21st century?
By encouraging their learning, fostering curiosity and further instilling in them to be their best selves! In this turbulent world, your child can excel in many environments academically, but to us—being an outstanding member of your community, understanding their privilege in a global world, speaking out for others who cannot speak for themselves, expressing who they are as individuals and ultimately finding their unique passions in life—is equally if not more important than what they would learn and experience in most schools. We entered MPA in 9th and 2nd grade—and both our children are thriving while choosing their own unique path.
What do you hope for your children in 20 years?
That the life-long values that we believe in and that are reinforced daily at MPA stay with them always. Kindness, curiosity, community-mindedness, compassion, empathy, passion and knowing themselves and what they stand for/believe in are values that we see inherent in the MPA experience and that our children will carry forward. MPA encourages the simple yet powerful act of 'bucket-filling' and we see it manifested in our children in so many ways that surprise and delight us!