March 25, 2021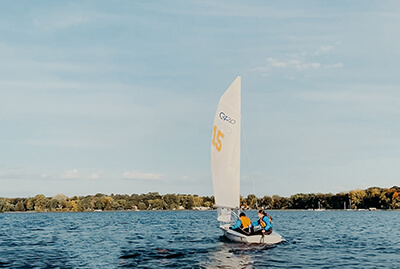 by Samantha Forgosh '22, team captain
Would you like to have a snowball fight on open water, or race across a lake to the nearest ice cream shop? You can do all of that, and so much more on the MPA sailing team! Here at MPA, we offer 7-12 graders a one-of-a-kind opportunity as both a fall and a spring sport. Through White Bear Sailing School, students compete for MPA at the city, state (and often national!) level as a sailor. No experience is necessary, and boats and coaching is provided.
Sailing is certainly a group effort. You will sail 420s, each with a skipper and a crew, and compete against other schools in regattas. Since MPA practices with Mounds View, Hill Murray, White Bear, and Mahtomedi, you're bound to make friends with those you end up competing against.
Practices are on Tuesdays, Wednesdays, and Thursdays, but we understand that MPA students are intellectually and socially driven. If you have to miss a practice, that's okay! Regattas are not required either, in fact we have sailors who use the season as a way to learn the ropes (pun intended) and don't compete until the last regatta of the year!
If you want to try out a practice before committing, we understand! You can come and experience the fun for a three-day trial period. Our spring season is just around the corner, starting Tuesday, April 13. You will need to register and your fee will be refunded if you decide not to continue.
If you have any interest, or questions, feel free to find me at school, or send me an email at sforgosh22@moundsparkacademy.org. Our team advisor, Natalie Waters Seum, is available as well at nwatersseum@moundsparkacademy.org. If you are ready to sign up, then go right ahead by clicking on this link: www.whitebearsailingschool.com. Then, click register and make sure to choose high school sailing and not summer. See you on the water!