April 13, 2021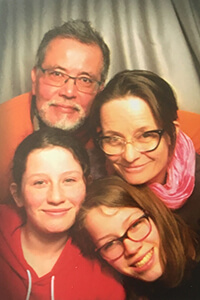 Dr. Kellermann, class of 1988, is experiencing MPA again as parent to ninth grader Aixa Kellerman!
What are you currently doing, professionally and/or personally? How did you get there? Where did you attend college? Are there some career moves or other key experiences or relationships that have inspired you?
After graduating from MPA in 1988, I went to the University of Minnesota for a B.S. in cell biology and a Ph.D. in cellular and molecular immunology. Then I had the option to take a job in either Connecticut or Palo Alto, California. The job interviews were both in early December – it wasn't hard to decide which position to accept! I spent 14 years in the Bay Area at R&D and marketing positions at various drug discovery companies. I also got an MBA in sustainable business management along the way. The Bay Area is a great place to live if you have no kids and you were one of the first 30 employees at Google or Facebook and you don't mind sitting in traffic on the 101. As none of these applied to me, I found it made sense to return to Minnesota where I ultimately started my own consulting business in 2012.
I've spent the last couple of years helping scientists and educators write grant applications. I love being in the learning zone all the time which is why I enjoy this work – in any given year I learn a little about five or six really interesting research projects. That's the complete opposite of committing to working for a decade to bring one new drug to market, which has a 90% chance of failing along the way.
I think it's really important to get a solid education – go as far as you can – but don't feel an obligation to stick with what you decided to study in your teens and early 20s for the rest of your life… it's important to recognize your strengths and figure out the things that you don't want to do. That changes over time, as do your priorities. Also, always make time to play.
How did your MPA experience prepare you for your life today? How did MPA inspire you to dream big and do right?
I think MPA's teachers set high expectations knowing full well we could achieve them if we worked at it. There was always a sense of complete support while also a pressure to do my best. There was also a lot of freedom to explore our individual interests – especially in the arts, science, and English classes.
What do you love about MPA for Aixa? How is she encouraged to dream big and do right at MPA?

I love the sense of high expectation coupled with a supportive environment which I think is so key for her. It can be challenging to recognize and play up your strengths, and to work on the things you're not so hot at academically. It's been good for her that the class sizes are small and no one falls through the cracks. I like that she's surrounded by other high-potential students who can inspire her – and that can take inspiration from her as well. I think she will really shine once we have this pandemic in the rearview mirror.
How is her experience at MPA been different than her previous school?
MPA is vastly different from what her experience would have been at Stillwater High School with 600+ students in each grade. I think it's a quality school, but that student body size boggles the mind. I feel MPA can be more nimble and more attuned to the individual student