April 28, 2021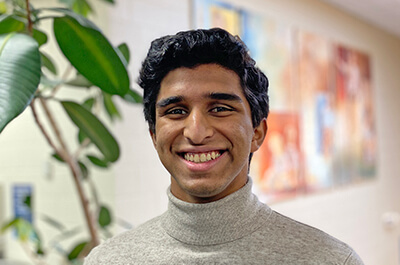 Congratulations to senior Dhruv Muppidi on being named one of 625 Presidential Scholar semifinalists from out of 3.6 million seniors across the country! Since 1964, the Presidential Scholars Program has honored the nation's most distinguished high school seniors based on academic success, leadership, and service to school and community. Dhruv is one of only 10 semifinalists from Minnesota. He will find out if he is selected as one of 160 Presidential Scholarship recipients in early May!
Meet Dhruv Muppidi '21
What prompted your application to the Presidential Scholars Program?
After receiving the invitation to apply to the Presidential Scholars Program, I decided to apply mostly on a whim to eliminate any regret I may have had if I didn't at least test my chances. I never once expected to be a semifinalist, and to be considered alongside some of the most accomplished high school seniors in the country is extremely humbling. It's a testament to the wonderful work being done at MPA by the teachers and the student body.
What's your big dream?
If we're talking long-term (and perhaps a tad idealistically), NBA commissioner is my ultimate dream, combining my love of business management, economics, and sports. However, I'm also passionate about combating educational inequities, and I would love to continue working in the non-profit sector during college and beyond.
How are students encouraged to dream big and do right at MPA?
Our senior class is comprised of students wanting to be foreign diplomats, astronauts, and the President of the United States. Our class discussions constantly feature many contrasting perspectives, leading to civil conversations that extend well beyond the allocated class time. Such diversity of thought is facilitated by a curriculum that provides students with the necessary content matter but leaves the interpretation and analysis of that content to the jurisdiction of students. At the same time, the teachers and the administration constantly provide opportunities for student leadership.  This year alone, students have taken the forefront on advancing climate change action projects, encouraging anti-racist action, and bolstering mental health during the pandemic. MPA students are catalysts of change in their communities, a trait undoubtedly indicative of "doing right" in the future.
What would you tell another student considering MPA?
As cliche as it may be, it's all about the people. When considering attending an institution that consists of many highly motivated students, it's easy to think it'll be filled with a bunch of sleep-deprived students ripping up each other's notes and engaging in petulant attempts to one-up one another. MPA is quite literally the opposite. The small school setting encourages and celebrates collaboration (students feel comfortable leaving their laptops unguarded in public study areas for hours at a time), promotes individualized attention from teachers, and since everyone more or less tries everything, MPA lacks the traditional cliques like "jocks," "theatre kids," and "nerds" that are relatively commonplace at other schools.
In what ways has MPA prepared you for life beyond school?
There are not many schools where I'd be able to simultaneously participate in student government, play multiple sports, dabble in forensics, and attend Habitat for Humanity club meetings, while still getting a healthy amount of sleep at night. Though it doesn't come as naturally to me, I've still been able to explore singing, music theory, and music composition during Concert Choir. At MPA, I've been encouraged to try everything. And, as is inevitable, I've failed several times (just ask my speech coach Ms. Kunze about the time I performed a song from the Aladdin soundtrack to begin an oratory speech). But, even though professional singing is probably off the table, I've still developed a lifelong hobby that I never believed I would have been interested in beforehand. Furthermore, as a result, I have a better sense of my own passions and skills, and I've been able to develop these skills in several different settings. For example, leadership looks very different on the soccer field, in student council, and in a classroom, and MPA has given me the opportunity to explore each of these distinctions.
How has the college counseling been this year?
Mrs. Pederson has been awesome. There are not many counselors in the country who would respond to an admissions question or help tweak an essay at 11 PM the night before a college deadline. Ms. Pederson did so numerous times, especially over Winter Break. The attention she's able to give each individual senior is invaluable, and I'm so grateful for having such a dependable, supportive, and understanding guiding hand during the college application process.