May 6, 2021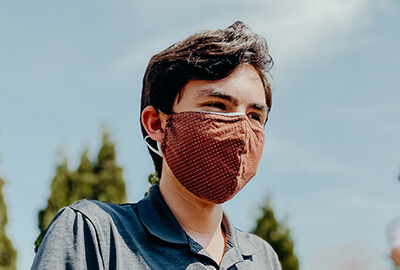 by Dr. Bill Hudson, head of school
I remember sitting in the bleachers in the upper level of Jenison Fieldhouse at Michigan State University to witness the graduation of my father. At five years old, I had no appreciation for the sacrifice he and my mother made for that to happen. I didn't know that my dad joined the Navy after high school to help support his family and that afterwards, he worked full time to put his younger brother and sister through college. I didn't know that over the course of seven years he drove 80 miles round trip to attend classes at Michigan State all the while working a full-time job, leaving my mother to care for three small children. I didn't know any of that, sitting in the bleachers that hot May afternoon in 1969. But I did know how important college was as I spotted my dad cross the stage to receive his diploma.
MPA seniors, together with the entire MPA community, will celebrate College Choice Day this coming Monday, May 10. Sporting their chosen college apparel, seniors will gather in and around the Upper School Commons to create their college pennants and feast on individually pre-packaged cookies and beverages. "This class has my heart," says director of college counseling, Lisa Pederson. "The pandemic literally shut down campuses last spring break as many were arriving to tour campuses. They rebounded and conducted the rest of their college search almost entirely online, demonstrating an amazing degree of resilience, imagination, determination, optimism, and support of each other."
The 63 members of the Class of 2021 students will attend more than 45 different institutions in 20 states, Washington D.C., and Canada. The schools they chose reflect priorities and programs as diverse as the students themselves. Represented in the mix are big research universities, women's colleges, film school, community college, a conservatory program, the Ivy League, and a host of excellent liberal arts and science schools.
Students will pursue programs spanning engineering, business, writing, design, plant biology, sports management, and architecture. In this class are future human rights advocates, doctors, lawyers, financiers, consultants, counselors, accountants, and who knows, possibly even an Oscar winner! MPA student athletes will go on to compete in (at least) baseball, Nordic skiing, and rowing, and contribute to vibrant college communities in so many other ways. "I couldn't be prouder of the Class of 2021 and can't wait to see what they accomplish in the years ahead," remarked Ms. Pederson, "I'm confident they will lead and improve any community they join."
Members of this amazing class will spread out across the United States and Canada: Georgia to Washington, Maine to Arizona, and cities including Honolulu, Denver, Chicago, St. Louis, Washington D.C., Philadelphia, San Francisco, Boston, NYC, New Orleans, and L.A. (Don't forget Walla Walla and Poughkeepsie!) A healthy cohort of students will attend five of the seven different first-year admitting colleges at our excellent University of Minnesota. In a few short months, MPA Panthers will become Bulldogs, Sagehens, Oles, Ducks, Gophers, Lutes, Knights, Scots, Badgers, Athenas, Quakers, and Morty the Mule.
Mounds Park Academy's college counseling process is driven by careful consideration of each student's unique set of interests, priorities, and aspirations, balanced with an understanding of the current college admission landscape. Recognizing the time commitment this requires, MPA leads students through a comprehensive, carefully designed curriculum that is introduced in ninth grade seminar and continues through junior and senior seminar classes.
The college (and application) landscape continues to evolve, especially over the course of the pandemic, and we are extremely fortunate to have Director of College Counseling, Lisa Pederson, at the helm. Lisa and her team of counselors, Andrea Kaltved and Laura Myers '11, meet individually with students and parents to create and edit the student's college list, address family-specific questions and concerns, and support applications for scholarship opportunities. Upper School teachers carefully craft letters of recommendations that speak to each student's character and abilities.
I am thrilled with the thoughtfulness and curiosity of our seniors in their college search. My own college search was rather limited, especially when compared to the over 450 applications submitted by the Class of 2021 to more than 175 colleges and universities. Monday will be a joyous occasion that marks an end of one journey and the beginning of another. On behalf of the faculty and staff of Mounds Park Academy, let me say how delighted and proud we are to celebrate this milestone with this exceptional senior class.