May 10, 2021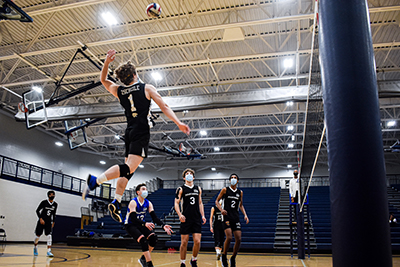 When the Panthers girls volleyball team qualified for the MSHSL State Tournament in 2019, their achievement inspired many in the MPA community. Among those were a group of Upper School boys who saw their own future in volleyball. Fast forward two years, and the team is now competing in its first season this spring. "A lot of us had an initial interest in the sport, and we had watched it at the high school, college and professional levels," recalls senior Callum Jones. We talked to the athletics department, started practicing, and asked (MPA Spanish teacher) Mrs. Kunze to be our coach. When she agreed, we got going."
With a twelve game season against the likes of Roseville, Great River Academy, Hmong College Prep and Minnehaha Academy, the Panthers, who field Varsity and JV teams, look to build experience, learn the game, create lasting memories, and find success. In their first ever game, the team defeated Roseville three sets to two, coming back from a two set deficit to win the last three. It was an inspiring victory that has set the tone for the season. "We are determined go to state," shares Luke Zscheile, also a senior. "We have good teams in our section, and even though we're underdogs, we want to be the best team left standing in the section, and play in the state tournament."
Boys Volleyball is currently considered a club sport in the MSHSL, similar to sailing and trap shooting, but efforts to turn it into an officially sanctioned MSHSL sport are gaining momentum. In fact, the Star Tribune featured the sport in a recent article.
At MPA, the team is having a blast. "Because of the rules where a player can't touch the ball twice consecutively, volleyball is the ultimate team sport," says senior Ayoub Mahamoud. "You have to have your team with you. It's so fun, we're deepening our friendships, and we're learning the important skill of helping and getting help from teammates."
Click here to follow the team on Instagram.