May 13, 2021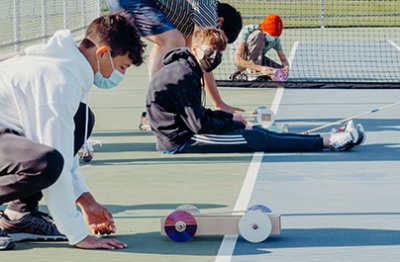 by Dr. Bill Hudson, Head of School
If you've been in an airport recently, it certainly appears that the pandemic is waning. Having just returned from a short trip to Charlotte, North Carolina to visit my 81-year-old mother whose health has been failing, I can attest to that. The lines to get through security are getting long again and planes are beginning to fill up again. It's almost as if life is back to "normal" but we know that it is not, at least not yet.
There is good news as more and more people are getting vaccinated. Minnesota is near the top of the list of states with the highest percentage vaccinated with 64% of Minnesotans 18 years and older having received at least the first dose of the vaccine. And with the FDA recently authorizing the vaccination of children 12 and older, we may be in the last leg of the pandemic.
With all the positive news, it's easy to forget that we haven't crossed the finish line just yet. According to the Star Tribune, pandemic activity remains at high levels in Minnesota, which had the second highest rate of new infections in the latest White House COVID-19 state report released last Tuesday. While it is true that the risk is lessening as more people get vaccinated, given the rise in variants, our on-campus dial stop one mode, and increased cases in recent weeks, diligence is needed now more than ever.
With just a few weeks left in the school year, I ask everyone to remain committed to the health and safety protocols that have served us well so far this year. It would be a shame if we were forced to move back to hybrid learning because we let our collective guard down. Students are at the highest risk of infection in outside-of-MPA sports, activities, and gatherings. We've become aware that some students are coming to school with symptoms, risking the health of others, and forcing their classmates in close contact to be quarantined. I urge families to consider recommitting to protocols such as masking, distancing, and other safety measures when choosing to participate in these activities and the potential for increased risk for everyone.
I'd like to remind families of a few important guidelines from our health and safety plan. If students are experiencing symptoms, families are required to notify the school immediately. Students cannot come to campus without first going through the testing and clearance process, even if symptoms happen at night or on the weekends. If students are exposed, we will work with each family to determine close contact status. Again, notification is crucial. While it may be tempting to not inform the school, try to circumvent quarantine requirements, or to feel like students are missing out, the only way we can maintain the health and safety of the entire community is by doubling down on these efforts.
As we approach the end of the year, I strongly recommend that families take advantage of the free testing program available through the state of Minnesota. All students are recommended to be testing every two weeks and for students involved in outside activities or sports, once a week.
As disruptive and frustrating as it may be for those deemed in close contact to be quarantined, I ask that students refrain from speculation, blaming, shaming, or passing along rumors and misinformation. We've prioritized the privacy and confidentiality of each student throughout the year, and everyone deserves dignity when faced with a COVID-19 related situation. That's the "Be Kind" portion of this year's theme: "Be Safe. Be Smart. Be Kind."
A year ago, I wrote that we would successfully navigate this pandemic together, as a community. The resiliency of our school has been inspiring and as we approach the finish line, we must remember the importance of sticking together. We honor one another when we hold fast to our health and safety guidelines. There has been nothing more rewarding than having all our students back on campus and if each one of us does our part, we will end the year on a positive note.