May 28, 2021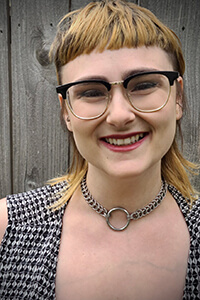 Congratulations to Logan Sand '08 on winning MPA's Alumni Association Award for the 2020-2021 year!
What are you currently doing, professionally and/or personally?
I am program manager for the Seeing and Exploring Life's Future (SELF) Program at Lutheran Social Service of Minnesota. We do comprehensive, medically accurate, and culturally relevant sex education all over the Twin Cities. I've been with LSS since 2017 when I came back to MN after graduate school. I started as program coordinator and I've been managing the program since 2019.
The majority of my work is with middle school students but we also work with youth in the community who are at 'high risk' for sexual exploitation/unplanned pregnancy/STIs (in other words, folks who would really benefit from sex education). I'm particularly proud of the fact that our program is one of the few in the area providing sex education to individuals with cognitive and intellectual disabilities (with content specifically tailored to that population). We always seek to provide our education through an anti-oppression lens. Good sex education is anti-racist, gender inclusive, and honors cultural experiences and worldviews; I like to think that SELF does really good sex education.
I also do parent and caregiver education to help set them up to successful conversations with their kiddos and I do professional development for anyone who works with youth. That's where I do most of my work around supporting trans and gender diverse and non-binary youth. I've been fortunate enough to provide education on gender in a variety of settings and will be presenting on gender inclusive sex education at an upcoming conference for folks who are federally funded to teach sex education. I've also been able to present at the National Sex Ed Conference and am published in the American Journal of Sexuality Education.
When the pandemic isn't happening, I do a sex education segment at a variety show that seeks to highlight BIPOC, queer/trans, and women's voices.
Outside of sex ed, I live in the Philips neighborhood of Minneapolis so I have been heavily focused on mutual aid and uplifting my community in the wake of last year's uprising. Food justice and access are of particular interest to me so this year, I've decided to turn my yard into a community garden (with no gardening experience, so that's cool).
How did you get there? Where did you attend college? Are there some career moves or other key experiences or relationships that have inspired you?
After 13 years at MPA, I attended Macalester college where I double majored in neuroscience and psychology. Macalester was a great fit for me, I always call MPA a perfect stepping stone to Macalester, both in its academic rigor and attention to social justice issues. But, I have to say, one of the best decisions I ever made was to take a break from academia before graduate school.
When I graduated from Macalester I thought I wanted to do research for the rest of my life. I had been the lab manager of the behavioral neuroscience lab and I loved it. I thought it was the best way to make a difference in the world— a doctor can only see so many patients in their life, one research study could potentially help millions! But it was in spending time away from academia that I began to understand the differing levels of access people experience based on their privileges, identities, and lived experience.
I learned that, in a perfect world, research would go exactly as I imagined. In the actual world, research is often flawed because it's done by flawed people and institutions. I was specifically interested in issues around sex, sexuality, sexual functioning, and gender— topics that were difficult to convince others were valid and valuable. As I thought about where I wanted to go, I landed on applying for a graduate program at Widener University, at the time the only accredited degree granting program in human sexuality in the country.
When I joined their master's in education track, I had no idea I would want to be a teacher. The more I learned about teaching, the more I realized that THIS was the way I would make a difference in the world. Not everyone has access to research but I could teach thousands children a year and that knowledge can spread! I thought of how different the world would be if even a handful more people had access to good education on consent, healthy relationships, gender, and other key topics.
Through the love and support from my beautiful trans and non-binary friends, I realized that one of the reasons I care so deeply for gender education is because I'm also non-binary (not that that's a requirement to do this work but my favorite part of the job is getting to show young queer children who are at such high risk for bullying, negative mental health outcomes, and suicide that there are successful adults who are just like them).I'm proud to say that I love the work that I do and every day I get to do a job that helps make things better.
How did your MPA experience prepare you for your life today? How did MPA inspire you to dream big and do right?
Every time I go into a space as a visibly queer person and every time I push to make sure trans and non-binary children have the love and support they need, I am reminded of the profound impact Mr. Meacock had on me as an educator. I live by his example of how to help LGBTQ+ youth feel safe and included, and I am forever grateful for the space he provided us. It's in his honor that I create the spaces that I do for my youth. Being a student at MPA gave me all the tools I needed to be a successful educator— everything from public speaking to the knowledge that if we have the privilege to make change, it's our responsibility to do so.
I also feel like MPA really did set me up for academic success. College was an easy transition from 13 years at MPA and graduate school was an easy transition from college. An MPA education is rooted in critical thinking skills, which built a foundation to examine the status quo (thanks, Ms. Conway!), who it's benefiting, and who is left behind. With equal attention paid to academics and the arts, MPA laid the foundation for me to be able to not only challenge the status quo but also gave me the skills to articulate those ideas. MPA lays the foundation that social issues are important and helps students learn which tools are at their disposal to exact change.
What's next? Do you have any aspirations–personal or professional–that you'd like to share?
Oh gosh. If I could literally just teach sex ed forever to whoever needs it I would be so happy! For right now, I'm trying to stay settled in knowing that I've helped grow and cultivate a program that makes a difference in people's lives… I guess my biggest aspiration right now is to get as good at growing tomatoes and peppers as I am sex ed programming.
If you have experience at another school, how has your experience at MPA been different?
I would say the biggest difference between MPA and the public schools I teach in is access to resources. Most schools simply don't have the funding or the means to support students the way that MPA supports them. The same goes for teachers. The teachers at MPA are passionate and truly want to be there. They seem to be strongly supported by the administration. This allows the focus to be on the well-being of the students and really encouraging them to thrive.
What would you tell a parent considering MPA?
When I reflect on what makes me a good educator, I can trace most of those skills back to MPA. I still model much of my teaching style off of Mr. Meacock and Ms. Conway. I look to them as 'gold standard' educators. If I can have half the impact they have, both academically, and in creating space for students to be themselves, I know that I am on the right track. Being able to participate in theater and speech gave me the public speaking skills to stand in front of hundreds of middle school to students and teach about a topic that can often lead to discomfort in a way that encourages participation. The academic rigor of MPA set me up for success in that arena. If you want your students to have a well-rounded, academically driven education I would absolutely recommend MPA
What do you hope for MPA students in 20 years?
My biggest wish for MPA students is for them to recognize the immense privilege that comes along with having a top notch education like this and to use that privilege to give back. That's the biggest lesson I wished I would have had earlier. I wish I would have known how drastically different my life and education was from the majority of people from an earlier age— that would have lit a fire under me to give back much sooner. I'm glad I made it here through the wisdom of others' lived experiences but my biggest regret is not focusing on understanding how privilege and oppression impact everyone sooner. My hope is that MPA students use their privilege for the good of not just their immediate communities, but for everyone.