January 7, 2021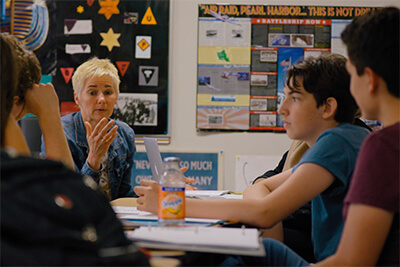 by Dr. Bill Hudson, Head of School
As I was putting the final touches on my original Panther Post message yesterday afternoon, news broke of the violent protest in Washington DC and the storming of the United States Capitol. The peaceful transfer of power is a cornerstone of our democracy. In the days, months and even years ahead, our nation must engage in serious reflection of who we are as a democratic society. How long can we say, with any sense of integrity, that this is "not who we are" before we must admit that this is who we are.
However, I am an eternal optimist and believe that American democracy is resilient. To me, it makes the case that education is important more than ever. Critical thinking, nurturing student voice and agency, character development, and civic engagement and responsibility are all antidotes to discord, division, and violence. These are important attributes of an MPA education. For instance, quite organically, 40 Upper School students joined a Zoom call last night under the guidance of several Upper School teachers who provided a context for students to think critically about the unfolding events in the context of civic responsibility.
There are moments, when important events unfold in real time, that lesson plans are set aside. Today is one of those opportunities and I know MPA teachers created "brave space" to process what happened yesterday as a teachable moment, whether a civics lesson, character traits, or student well-being. Even if students are not talking about what took place, it is likely they are thinking about them and perhaps looking for an opportunity and a brave space to express their ideas and pose their questions. Developmentally, and because our teachers truly know their students, teachers were prepared to provide that opportunity.
You may have already engaged your children in such a conversation and I encourage you to do so. Our first reaction is often to protect our children and either avoid the topic or even tell a white lie—but don't. According to Cassidy O'Brien, a family therapist at San Diego Kids First, confronting kids' worries head on, explaining what's happening in a truthful but simple way, and emphasizing that kids are safe are the best ways to help children make sense of the chaos. Kids need to know they are safe, need help understanding bad behavior, and need assistance to manage their anxiety.
Adults can help children and youth manage their reactions to events in the news and in their communities by understanding their feelings, modeling healthy coping strategies, articulating their viewpoints in a productive way, and closely monitoring their own emotional states and that of those in their care. Be honest with your feelings, but do not amplify them for the sake of your students. Be authentic, but do not dwell on despair.
Now, more than ever, it is crucial to create and sustain a community that values diversity in all of its expressions, acknowledges injustice, honors multiple perspectives, strives for equity, intentionally nurtures meaningful relationships, and one that is willing to do the hard work of peacefully working through our differences. As head of school of Mounds Park Academy, I re-commit our school to realize this vision and invite you to join with me.
For additional information, and more resources: