October 7, 2021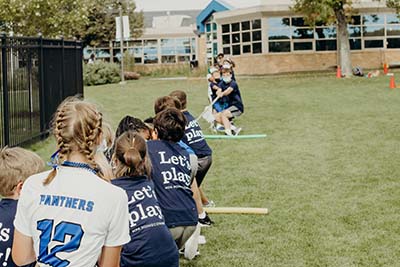 from Dr. Jenn Milam, Middle School Director
Conferences, Quarter 1, and Partnership
This note marks our progress through the seventh week of school—it's hard to believe that the weeks are speeding by as they are! We are sharing learnings, successes, and challenges with you via parent conferences, which we hope you find helpful and insightful as you peek into the school-life of your students. Without a doubt, a return to school, routine, high expectations, and full schedules has been an adjustment for all of us—parents, families, teachers, and students alike.
At the end of this news and notes, I will offer some insight into what school leaders and researchers are finding just below the surface of the daily interactions between students and teachers and, in the general milieu of the school days that is reflecting some stress and overwhelm for students and teachers, alike. I will also invite you to attend one of my series of parent coffees where I hope to solidify your partnership with me, the MPA faculty and staff, and your family to help our young people be their healthy, compassionate, and respectful selves in such a way that honors both your family values and those we hold at MPA.
The benefit and advantage of selecting an independent school for your young person's education is that you choose it based not only on exceptional educational outcomes, but also on shared investments and ways of being in the world. If our young people are going to keep their love for learning, their success in the school setting, a healthy mental-social-academic balance, we will need to all work in partnership. This is my hope for all of them … and for us, as their parents. I hope you'll join us at a conversation in the coming weeks.
IMPORTANT: COVID Protocols and Symptom Response
Just a reminder that any/all symptoms through our AUXS app and/or via email to covid@moundsparkacademy.org. Please do not email your divisional offices, directors, or teachers of an absence due to symptoms. It is important that all notifications are sent to Jennifer Rogers, our COVID Health and Safety lead, so that you can be supported and informed of possible next steps including, but not limited to, the need to remain home, secure a negative test prior to return, and/or quarantine per CDC guidance.
Parent-Teacher Conferences Continue This Week
• Thursday, October 7, 3:30-8PM
• Friday, October 8, 8AM-4PM (NO CLASSES)
All conferences are being held via ZOOM and each family is offered the opportunity to sign-up for up to five, 10-minute conferences with their student's teachers. I sent a list of ZOOM links for conferences via email last week, as well as posting on Schoology. If you need assistance, please let us know.
Planners! Use Them, Check Them, Be Accountable
Student planners were distributed last week, and we have been working diligently on learning to use them consistently, productively, and in a way that supports self-regulation and success. Please ask your student about their planner, ask them to show you their progress, and remember that their planner is their first line of organizational super-power!
If your student continuously shares that their planner is "missing", we need to know that as it is an essential part of our teaching effective executive function and self-management strategies—we will happily provide them another planner!
Please Send Snacks, Your Students Are Hungry!
Middle Schoolers are always hungry. ALWAYS! And each day, most teachers take time, either during advisory or Block 3, to offer a snack time. For obvious reasons, we cannot provide snacks for all students (allergies, preference, preparation, etc.) but we welcome you to coordinate with your student a snack they can bring to school to give them just enough to make it to lunch.
On this note, eating breakfast is often hard for Middle Schoolers—they are tired, not awake enough to eat, are using every minute to sleep/snooze before coming to school. Especially if your student is not eating breakfast, their snack is ESSENTIAL!
Excellent ideas for snacks include, but are not limited to:
• Carrots and hummus
• String Cheese and crackers
• Goldfish
• Yogurt tube and fruit (already cut and prepared)
• Sliced apple and sunflower butter (no peanuts/tree nut butters)
• Celery and ranch dip
• Small half of sandwich
If your student is staying after school for a sports practice, they also NEED an after-school snack that they may eat in preparation for an hour and a half of activity. NO ONE likes a "hangry" (pre)teen…it would be wonderful if students came prepared for their day not just academically, but nutritionally, as well.
Water Bottles–A Necessity!
A full day of learning is a full day that requires water—PE, academic classes, arts classes, lots of movement and activity! Students need water bottles, and they need to drink water consistently. Please send a water bottle, that can be kept at school, labeled with your student's name, with them each day. We do not have cups, disposable water bottles, or any other way for student to remain hydrated!
Dismissal Procedures and Expectations
If a student is staying after school, they have three choices for where they can be:
Study Hall until 4PM (no charge)
Panther Den until 6PM (or after 4PM following Study Hall)
Athletics, Middle School Show Rehearsal, or Club until the designated end time. If you are not able to pick-them up on-time, they will be sent to Panther Den.
I have reviewed these options with your students, and they understand my expectations. I am asking for your support in reinforcing safe and responsible behavior after school.
Middle School students are not allowed to visit the vending machines after school, hang-out in the North Lobby (the Upper School entrance) or wander the hallways unattended. As I have shared before, this is a safety issue. If you are picking your student up immediately after school, that needs to happen prior to 3:15 PM. If you are not on-campus, in the dismissal line, and your student is not picked up by 3:15 PM, they will be sent to Study Hall.
If at 4 PM you have not arrived at school for your student, they will be sent to Panther Den and you will be charged for after school care. Your student is welcome to stay in Panther Den until 6 PM or until you are available to pick them up after school.
If your student is in athletics and they have a game, their choices are the same until 30 minutes prior to their event. For example, if your student has a 5:30 PM soccer game, they can go to Study Hall until 4 PM, then they will go to Panther Den until 5 PM (and you will be charged), and then they will be dismissed for their soccer game. We do not allow Middle School students to "wait in the lobby" until you arrive—supervision by an adult is required.
I ask that you discuss with your student each morning their plan for after school and reinforce responsible behavior that aligns with my expectations outlined here. If you have questions, please reach out and I will be happy to clarify!
Signs of Suicide (SOS) Screening and Education
The middle school years can be marked by a roller-coaster ride of emotions. It is easy to misread depression as normal adolescent turmoil; however, depression (among the most common of mental illnesses) appears to be occurring at a much earlier age, and the past decade has seen teen suicide rates double.
To address this issue, Mounds Park Academy is offering depression screening and suicide prevention training as part of the Signs of Suicide (SOS) Prevention Program for 7th and 8th grade students. Our goals in participating in this program are straightforward:
To help our students understand depression is a treatable illness and to help them assess whether they may have symptoms consistent with depression;
To explain suicide is a preventable tragedy that often occurs because of untreated depression;
To provide students training in how to identify serious depression and potential suicidality in a friend;
To impress upon teens that they can help themselves or a friend by taking the simple step of talking to a responsible adult about their concerns.
Parents of 7th and 8th grade students received a detailed email with more information. Please let us know if you have questions, do not wish for your student to participate, or need a conversation.
Middle School Dress Code
As I shared at Back To School events, we have a very simple dress code in Middle School—all personal parts need to be covered. That includes, bottoms, backs, breasts, and belly buttons! Regardless of a student's gender expression and presentation, all "personal body parts" need to be covered—this includes tummies. Shirts do not need to be long, but the bottom of the shirt must meet the top of the pants. Please help me to reinforce this message with your students—they always look cute and yet some clothing is more appropriate for weekends than school!
Stress, Social Disruption, School Engagement, and Safety Nets: What is next for today's students?
"Schools across the country say they're seeing an uptick in disruptive behaviors. Some are obvious and visible, like students trashing bathrooms, fighting over social media posts, or running out of classrooms. Others are quieter calls for help, like students putting their head down and refusing to talk."
When we began this year, we had big dreams and high hopes of returning to "normal"—all of us back together, again, full-time on campus learning, and life "post-pandemic" even if we were masked and limited in our interactions. And we are grateful for all those things … and yet, there are struggles.
It is being more and more often written about that students, teachers, and school leaders are experiencing a new kind of uneasiness and stress that is impacting our day-to-day interactions. It appears that sometimes we have forgotten what it means to live in relation to one another, to hold ourselves to higher community standards beyond what we, as individuals, want in the moment, and even to persist in lengthier, more focused tasks that require our full attention and participation. This article from CHALKBEAT.org outlines well-rounded explanations for why we are all experiencing greater stress, social tensions, and even personal challenges right now. I have shared with several parents in recent months that we will likely be learning, for many years, the full impact of the pandemic on our young people—both seen and unseen.
And while there are explanations for our feelings, and even our behaviors, they are not excuses for young people to act poorly, to not care for one another, or to not be fully accountable to our community. With this said, I am inviting you to join me, in one of the parent coffees below, to share your experiences as a parent, MPA community member, and human being, as we navigate this present moment and the future ahead of us. My belief is that many caring hearts are more powerful than a few. As parents, school leaders, teachers, and community, we can come together to work—on behalf of our young people—to find better ways to support them, as a community and as the adults who love them most, through this challenging time in their formative years.
I hope you'll join me on campus for one of the following Middle School community conversation opportunities to help strengthen our network, share our hopes and dreams for our young people, and problem-solve our next best parenting tips, tricks, and triumphs for the good of the whole!
Please RSVP to me, Jenn Milam at jmilam@moundsparkacademy.org, by Thursday, October 14 to attend one of the following conversations. Space is limited and reservations will be accepted on a first come, first RSVP'd basis!
Friday, October 15, 8:15-10 AM, Porter Conference Room (on campus)
Monday, October 18, 3:15-5 PM, Porter Conference Room (on campus)
Tuesday, October 19, 8:15-10 AM, Porter Conference Room (on campus)
More dates coming soon!
IMPORTANT DATES
Oct 7: All School Parent-Teacher Conferences, 3:30-8 PM
Oct 8: All School Parent-Teacher Conferences, 8 AM-4 PM—NO CLASSES
Oct 11: Picture Retake Day
Oct 12: 7th Grade SOS Screening
Oct 13: 8th Grade SOS Screening
Oct 20-22: Fall Break—NO CLASSES
Oct 29: End of Quarter 1—All Assignments and Assessments Due
Nov 1: GRADING DAY—NO CLASSES
Nov 2: Quarter 2 Begins