October 7, 2021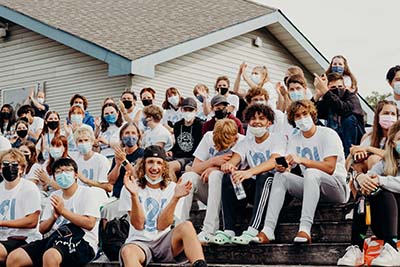 from Mark Segal, Upper School Director
The day started like any other Monday, but I knew that was not the case. After welcoming students to campus at the north door, my focus shifted as I made last minute preparations for the first in person Monday Morning Meeting in 574 days. I anticipated what it would be like and what I would feel, but I had no idea how impactful this community gathering would be to me. I clearly remembered our last gathering where I wished everyone a safe and restful Spring Break, and since then have facilitated each of our meetings via Zoom. Although a nice substitute, nothing compares to seeing the Upper School students with each other in the same space. According to the National Association for the Education of Young Children (NAEYC) one of the key components of a school is, "creating a culture built on community." Establishing the foundation of familiarity and trust between students within a community sets expectations and builds chemistry that translates to various aspects of their lives— family, team, club, etc.
Looking out at 235 pajama clad students (and many faculty) was the first of many community building activities during Homecoming week. Each day of the week the students excitedly participated in the themed dress up days (my favorite being Dress Like a Teacher Day and seeing several students wearing sweater vests and bow ties), spent time collaboratively decorating their grade level hallways, and engaged in a special Homecoming Assembly where the traditional court selection, introduction of fall athletic teams, and grade level tug of war took place. Friday afternoon brought three-quarters of the Upper School students together for the annual bar-b-que and bonfire in the Benz Courtyard. Even though it has been two years since this event was held, the students quickly fell back into their routines of being with one another and enjoying each other's company. Throwing the football, kicking the soccer ball, bumping the volleyball, and participating in a cornhole tournament were enjoyed and appreciated activities.
Saturday night brought the finale' to Homecoming week. The weather gods shined down as the rain cloud disappeared in time for us to hold the first Homecoming Dance since September 2019. More than half the Upper School student body attended the first outdoor Homecoming Dance in school history. Adhering to the required health and safety protocols, students danced and "chilled" with each other through the evening. The addition of a bonfire allowed students to find some peace and quiet in an otherwise fun-filled evening.
A recent Edutopia article shares that once students feel safe, secure, and have a sense of belonging in a school environment they are able to better focus their attention and energy on learning. There is no doubt that the past 19 months have impacted us individually and collectively. After the excitement of last week, I am cautiously optimistic that maybe, just maybe, "normalcy" is returning to our special community.
I look forward to seeing you on campus soon!
Important Information
We are excited to welcome Ms. Rae Dillon as the Upper School and College Counseling Administrative Assistant. Most recently, Rae worked as the Program and Operations Manager with the Minnesota Elementary School Principals' Association where she served as the primary liaison to their Executive Committee and Board of Directors. Prior to that, Rae held positions at the Universities of St. Catherine and St. Thomas, Oak View Elementary School, Brooklyn Center Elementary and the Northwest YMCA. A graduate of the University of Minnesota, Rae holds a Bachelor of Arts in English Literature and Youth Studies. Rae can be reached on rdillon@moundsparkacademy.org or 651-748-5544 to report student absences of if you have any Upper School-centric questions.
As we continue to navigate the ongoing challenges of the pandemic, we ask for your diligence in working with our COVID-19 symptom response and contact tracing team. At the first sign of symptoms, parents should complete the daily AUXS app symptom screening and/or email covid@moundsparkacademy.org. This should happen BEFORE seeking a COVID-19 test. When a negative COVID-19 test is required for student clearance, results must be provided prior to the student's return. All symptomatic community members, regardless of vaccination status must remain at home pending those results. Thank you for your partnership. For any questions, please contact Jennifer Rogers at covid@moundsparkacademy.org.
Looking Ahead
Thursday, October 7: Upper School Conferences, 4-8 PM, via Zoom
Friday, October 8: No Classes, Upper School Conferences, 8-4 PM, via Zoom
Tuesday, October 12: Senior Performances, 8-9:15 AM, via Zoom
Saturday, October 16: PSAT Testing for Grades 10 & 11, 8 AM-12 PM, Lansing Sport Center
Wednesday, October 20: No Classes, Fall Break

Non-Official PSAT for 10th Grade, 8 AM-12 PM, Lansing Sport Center

Thursday, October 21: No Classes, Fall Break
Friday, October 22: No Classes, Fall Break
Tuesday, October 26: PSAT Testing for 11th Grade, 8 AM-12 PM, Nicholson Center

This is an alternate test date only for 11th grade students unable to test on 10/16

Wednesday, October 27: Senior Performances, 8-9:15 AM, via Zoom
Friday, October 29: Last Day of Quarter 1

Senior Retreat, 8 AM-6:30 PM, Camp St. Croix and MPA

Monday, November 1: No Classes, Grading Day
Tuesday, November 2: First Day of Quarter 2