November 5, 2021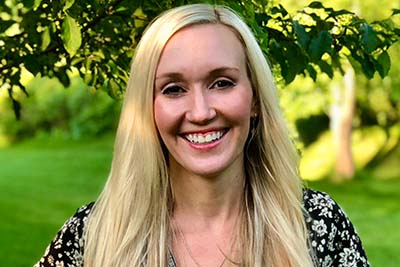 Adi Boeder Risner '02
For what grades did you attend MPA?
K-6 and 10-12 (relocated to Belgium 7-9)
Why did you choose to pursue a position on the Alumni Association Board?
Over the last year, my interest in the Alumni Association peaked as I noticed more and more alumni choosing Mounds Park Academy for their children. As a member of the Parents Association at MPA, connecting with all parents is a delightful part of my role, but I especially enjoy relating to other alumni parents given our shared experiences and values. Last year, the Kindergarten class was composed of 20% children of alumni! I pursued a position on the Alumni Association Board to better serve as a bridge between alumni and current and/or prospective parents.
In what ways do you see yourself as a supporter of MPA and its mission?
Well, I send my kids to MPA!
What are you currently doing, professionally and/or personally?
My husband and I were married in 2014 in Estes Park, CO, and we now have two sons and a bulldog together. We moved back to the Twin Cities from Denver in 2018 to be closer to family and for the boys' education. I'm currently a Statistician at 3M. I recently re-entered the corporate workforce after staying home with my youngest son for 3 years. Fun fact, I also make soap – lots and lots of soap!
How did you get to where you are in your career? Did you attend college and if so, where? Are there some career moves or other key experiences or relationships that have inspired you?
After graduating from MPA in '02, I received my bachelor's at St. Olaf College in both mathematics and economics. I worked at an actuarial firm for several years before relocating to Denver in 2011, for the mountain lifestyle. Here, I completed my master's in business intelligence at the University of Denver, Daniels College of Business. In the years to follow, I worked at a major healthcare company, building statistical models and training data scientists on predictive modeling techniques. I find that I'm most inspired when I accept the challenge to change perspective. For example, the best move that I ever made (both personally and professionally) was taking some time off to stay home and focus on family. The change was scary and uncertain, and no-one thought it was a suitable role for me, but ultimately taking that leap was an extremely gratifying decision that continues to provide benefits. Finding fulfillment at home changed my perspective of who I was and what I can contribute to the world. Not only did I soak up the quality time with my kids but I was also able to recalibrate my goals for the future. I think that anytime you allow yourself to change perspective you're given the opportunity to grow.
How did your MPA experience prepare you for your life today? How did MPA help you dream big and do right?
At MPA I felt regularly encouraged, challenged, and respected in my approaches to problems, without fear, judgement, or social pressure. Most importantly, I think that MPA provided me with a safe environment to pursue a wide-range of multiple disciplines and to make balanced choices about my interests. The emphasis that I felt on exposure and balance over perfection prepared me for an evolving future full of choices that I didn't yet know existed.
What's next? Any aspirations—personal or professional—that you'd like to share?
I'm really excited to wear multiple hats this year – Alumni Board Member, Parent's Association Grade Rep, MPA parent, and full-time working mom. Fun times!
Please share your favorite MPA story.
I vividly recall, as a high schooler, spending most of my free time in Ms. Buck's classroom, working on my ceramics projects. There was always some detail that needed fine-tuning or some creative process to map out, or maybe I just loved the smell of the clay. Either way, her classroom was always open and I knew that I could expect her cheerful smile. This was my favorite part of the day.