November 11, 2021
from Jennifer Rogers, Director of Development and Community Engagement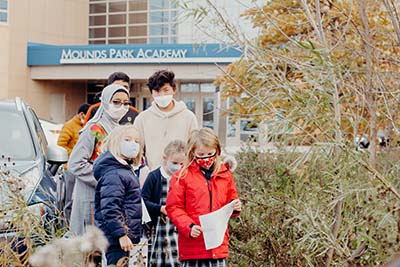 I was fortunate enough to join the MPA community in 2018 as the director of development and community engagement. And to top it off, my two kids fell in love with the school right along with me and joined as new students at the same time. As with many things from the pre-pandemic world, it's hard to imagine ever being able to predict how my role would change, let alone education and all of society due to COVID-19.
I've loved seeing the direct impact hard work has had on our students and community:
building our new Family Commons and the Martin Lenz Harrison Library thanks to the generosity of our donors;
hosting joyful events for grandparents, special friends, extended family members, and the local community;
building a foundation for the future through legacy giving;
providing parents the opportunity to volunteer and connect with one another;
engaging alumni and parents of alumni around the globe;
and ensuring our teachers and students have the supplies they need every year through the annual fund.
None of these accomplishments would be possible without our community joining together to make them happen. For this guest spot, I initially thought I would focus on the impact our community's giving has had. But after being fortunate enough to witness the tremendous effort of this week's Vaccination Clinic in our building, I couldn't think of a more perfect representation of what it means to me to be a part of this community.
I have never seen a group of people join together with a shared purpose the way they did on Monday afternoon to host this event. Planning in record time, seeing our community rally together, and pulling off something in a joyful and meaningful way will always stay with me. Nearly 70% of our previously ineligible unvaccinated students have now received their first dose, almost all of them in Lower School classrooms administered by MPA parents from the medical community. Never did I imagine the smiles, joy, and even laughter amidst the tears that would happen at an event like this.
My own 10-year-old received his first dose from Emily Kang, an MPA alumnus and parent to two MPA students in the Lower School. I had tears of joy and not just from the knowledge that he would now be closer to full protection, but also from the overwhelming sense of gratitude to Emily and the nearly 50 other volunteers. It is bringing tears to my eyes reminiscing on the hugs, gestures of gratitude, and the shared sense of accomplishment and relief everyone was feeling. We asked volunteers and participants from the vaccination event to provide feedback in a survey. I wanted to share some of their responses with you:
"Coming together as a community to promote public health both within our own school and beyond was such a powerful feeling! As a new parent to MPA it was one of my first chances to meet faculty, other parents, and feel connected to a place my daughter considers a second home. I left feeling even more confident we'd made the absolute best decision for our children in joining the MPA family and feeling a tremendous amount of school pride!"
"I loved seeing our community work together for a common and important cause!"
"I loved the enthusiasm of the night. It felt hopeful and cheerful."
"[What I enjoyed most was] the feeling that MPA was doing something AMAZING for our community, children, and the community at large. Goosebumps."
"The volunteers and staff were so incredibly helpful and kind and kid-friendly, it made the experience so easy and actually enjoyable. I am so thankful for all who participated."
Nothing could have prepared me or my team for the hard work and emotional roller coaster that being MPA's COVID-19 health and safety lead would bring. We've found ourselves planning, contact tracing, having difficult conversations, planning again, and most importantly leaning on one another, relying on our shared sense of values and purpose to weather these tumultuous months.
I often feel I have the best job in the world. A lot of people say to me, how can you ask people for money? And now they've added, how can you deal with all of this COVID stuff? My response came to me early in my career, working in the nonprofit and education sectors first in direct service and programming, into administration, and finally advancement. Even now as I'm pushed into new areas, redefining community engagement, and doing my best to help our families weather this pandemic, this early realization still holds true. We do the things that feel hard by sharing a common purpose, being dedicated to the greater good, and trying to make a difference in one another's lives. When we do that, we get through the difficult times in the best way we know how: together.