November 11, 2021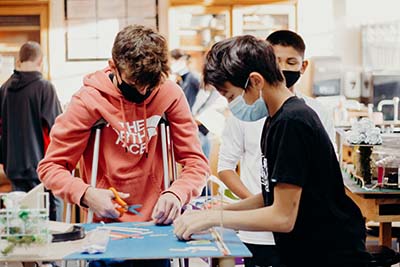 from Dr. Milam, Middle School Director
Panthers Advance!
It's a great day on campus here as our Varsity Girls Volleyball Team just beat the #1 seed in the state tournament to advance to the semi-finals! We'll be hosting another watch party tomorrow in the Nicholson Center and sending positive vibes down to the Xcel Center for another PANTHER WIN!
IMPORTANT: COVID Protocols and Symptom Response
Just a reminder that any/all symptoms through our AUXS app and/or via email to covid@moundsparkacademy.org.
Please do not email your divisional offices, directors, or teachers of an absence due to symptoms. It is important that all notifications are sent to Jennifer Rogers, our COVID Health and Safety lead, so that you can be supported and informed of possible next steps including, but not limited to, the need to remain home, secure a negative test prior to return, and/or quarantine per CDC guidance.
7/8 Quiz Bowl Starts Now!
Quiz Bowl for the fall will be for 7th and 8th grade students. Registration is required for participation and the link was sent via email to 7th and 8th grade families. If you have questions, please reach out to Mr. Cunningham (icunningham@moundsparkacademy.org).
Colder Weather Is Upon Us, Coats Are Important!
A hallmark of the MPA experience is that we go outside to recess every day that the weather is above -15 degrees. We are also fortunate enough to have an amazing sledding hill once the snow falls. Please begin encouraging your Middle Schooler to dress appropriately for the weather, wear a coat, bring mittens/gloves/hat, and if they'd like, bring snow boots and snow pants when the time comes.
Recess is an important part of our day – it's good for the brain, body, and soul! Students are not allowed to stay indoors for recess, so having cold weather gear is important and makes for happier kiddos!
Water Bottles–A Necessity
A full day of learning is a full day that requires water – Physical Education, academic classes, arts classes, lots of movement and activity! Students need water bottles, and they need to drink water consistently. Please send a water bottle, that can be kept at school, labeled with your students name, with them each day. We do not have cups, disposable water bottles, or any other way for student to remain hydrated!
More Middle School Parent Chats
Due to low interest, I have cancelled the Parent Chat scheduled for this evening. If you want to join us for the last one before Thanksgiving, mark your calendars for lunch at Panera Bread in Minneapolis on Friday, November 19, 11:30 AM-1PM!
It's always fun to get together and chat with some awesome MPA Parents! Hope to see you there!
Fall Campaign @ MPA
This year's "Let's Join Together" Fall Campaign will kick-off on Monday, November 8th and last through November 19. During this time, we ask families to help us meet the gap between tuition and the cost of an MPA education to help ensure students, families, faculty, and staff have the resources they need. Here are ways you can help:
Spread the word! Help us to ensure other parents and community members know about this important time, where we step up and give back to support our entire community.
Mark your calendars! Give to the Max Day is on November 18. This fun day is when Panthers everywhere join together to help us reach a big goal and enjoy a fun virtual lip sync battle with teachers, staff, and students.
Give! You can contact Jennifer Rogers, director of development and community engagement at jrogers@moundsparkacademy.org to learn more about how to make a pledge or a gift. You can also visit moundsparkacademy.org/donate to make your gift today. For each grade that reaches 70% participation in making a gift, students will receive a fun party!
Quarter 2–Increased Expectations and Increased Independence
As we are now firmly into the school year, and almost midpoint into Quarter 2, your student should be more independent, more able to manage themselves and their schoolwork, and balance their day-to-day activities. While we all know this year has taken us a bit longer to settle in, teachers and I have been very clear about our expectations and students can really shine if they apply themselves with clear, coherent, and consistent support from the grown-ups in their lives who love them.
IMPORTANT DATES
Nov 19-21 Middle School Show
Nov 24-26 THANKSGIVING BREAK – NO CLASSES
Nov 29 Classes Resume
Dec 8 Middle School Art Show and Grades 6-8 Music Performance
Dec 10 7/8 Winter Dance
Dec 20-Jan 2 WINTER BREAK – NO CLASSES
Jan 3 Classes Resume