November 18, 2021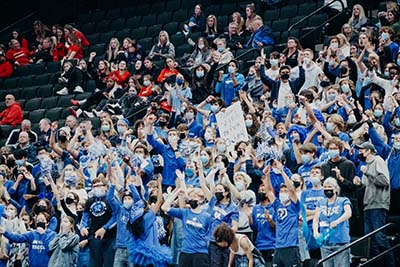 from Bill Hudson, Head of School
The power of community was on display last week as we celebrated the success of our Girls Volleyball Team and their run at the state championship. I was incredibly proud of our team—the grit, tenacity, and resiliency they displayed, and the way in which they positively represented the school. I was also full of pride for the way our community came together to support the team. Students, whether they attended the game in person or watched the livestream at school, cheered loudly and proudly, and with extraordinary school spirit.
Earlier in the week, this amazing community pulled together to host a vaccination clinic, providing members of our school community and our surrounding neighborhood, the opportunity to vaccine our younger learners and boosters to adults. The clinic was emblematic of our community's response to the pandemic: draw upon the can-do spirit of MPA and on the strength of our relationships to overcome an urgent need.
Forty years ago, a different urgency led to the founding of Mounds Park Academy. A group of parents and teachers established a shared community to provide children with a new and unique student-centered whole-child education that didn't exist in the east metro area. Forty years of gratitude and joining together: we've collected quotes from community members you can access here. By joining together, that early community overcame numerous obstacles to succeed and thrive.
Our challenges today are different than those 40 years ago. In a time of rapid change and volatility, young people need stability and a safe, welcoming place to learn and grow. They need kind and caring teachers and staff who truly know them and can accompany them through uncertain times. Students deserve an education that is both challenging and meaningful, one that provides the foundation to succeed in a future with jobs that don't yet exist.
Today is Give to the Max Day and we are nearing the end of our Fall Campaign. This year's campaign is especially meaningful because it coincides with our 40th anniversary celebration of the founding of our school. Like the founding families, our school wouldn't be what it is without you and your family. We have a $200,000 goal today and we need to raise $150,000 in one day to access $50,000 in bonus challenge gifts from anonymous community members. I humbly implore you to join together with other parents, trustees, faculty, staff, alumni, parents of alumni, and grandparents and make a gift to this amazing school.
Every gift of every size makes an impact. Let's join together in support of our community! Make a gift here!
Be sure to follow along in your email inbox and social media as we share live results and unveil our special virtual Lip Sync Battle with beloved teachers, staff, and students today!