November 4, 2021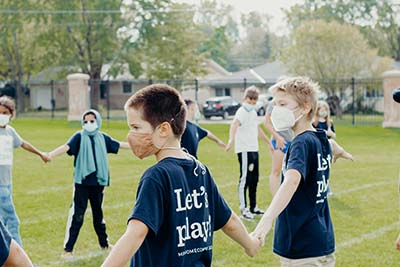 from Bill Hudson, Head of School
Helen Keller, one of the great American authors, activists, and advocates, said, "Alone we can do so little; together we can do so much." These are such simple, yet enlightened words, that illustrate the profound power of community collaboration. I believe, from the bottom of my heart, that schools should be epicenters of deep collaboration—among students, faculty, staff, families, alumni, and other community members.
Just this week on campus, students, faculty, and staff came together to do so very much:
Upper School physics students worked in small lab groups using a bicycle wheel to understand rotational motion by feeling it between their hands.
STEM Ed Club students created curriculum for and hosted a Nature Event for their Lower School friends.
Student Council members organized a Nitro-Ball Tournament to benefit future projects in a fun and joyful way.
Volleyball players rallied the student body to show up for them at sections and show their support in a huge way.
AP Spanish students worked in discussion groups, debating topics such as regional/cultural/religious differences, after having only been in class for two days.
Middle School students lined the hallways in small groups, using marshmallows and spoons to investigate math and science in a three-dimensional, dynamic way.
Lower School faculty Mari Espeland and Heather Mastel collaborated on their annual second grade production of "The Tales of Anansi the Spider" for the sixth year in a row.
Staff designed and implemented a COVID-19 Vaccination Clinic on campus in just 24 hours, benefitting the MPA community and beyond.
Faculty and staff brought concerts back to MPA with both a successful livestream and an in-person way to engage with the Instrumental Concert.
Eighth grade faculty collaborated on the Future City project, providing an interdisciplinary approach for students designing a waste-free city 100 years in the future utilizing a circular economy.
I could go on and on, but none of the above would be possible without collaboration, connectedness, and community.
Now, its our turn to come together—literally and figuratively—to show our support of MPA and the experiences created here each day. This year's Fall Campaign, "Let's Join Together," launches November 8 and lasts until November 19, culminating with our Give to the Max Day of Giving on November 18. A very special, in-person kick off, will be held outdoors on Friday, November 5, from 2-4 PM. Come to campus, come together, and celebrate the start of this very special time at MPA.
This year's Fall Campaign is particularly meaningful because it coincides with the 40th anniversary celebration of the founding of our school. Our goal this year is to raise $350,000 to support students, teachers, and to bridge the gap between tuition and the cost of an MPA education—tuition only covers approximately 80 percent of MPA's expenses. Your gift will ensure students, faculty, and staff have the tools, resources, and support they need to come together today and tomorrow to do so much.
I want every family, especially our new families, to know that giving at MPA takes on many forms. Every gift is valued and participation at any level is deeply appreciated. Sentiment matters more than size and we encourage every family to give at the level that is right for them.
Joining together at MPA may look a little bit different for a little bit longer, but whether we're together in spirit or in person, we can accomplish so much. You can learn more about the Fall Campaign and what the MPA Fund supports by visiting moundsparkacademy.org/support-mpa.