December 6, 2021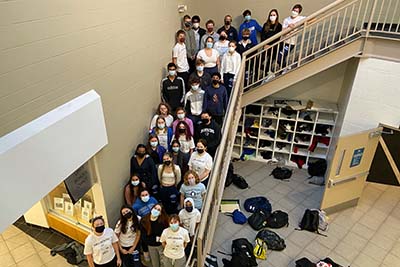 from Katie Murr, Social Studies Teacher and Upper School Debate Coach
Congratulations to the MPA debate team on a wonderful performance at the Classic State Debate Festival. 42 students represented the school, and Mounds Park Academy received the second-place team sweepstakes award. This award is based on the top two performances across each of the three divisions of competition – novice, junior varsity, and varsity. It's a testament to the depth of the team.
We call the tournament the Classic Debate Championships in novice and junior varsity. In the novice division, the team of Greta Hanson and Max O'Connor advanced to the octafinal round, and the team of Zoya Nayak and Annika Binstadt advanced to the quarterfinal round. The team of Molly Vergin and Meiran Carlson advanced all the way to the final round, finishing as the runners up in the division. In the junior varsity division, the teams of Ben Murr and Akshay Somayajula and Zoe Schnell and Frances Martin advanced to the quarterfinal round, while the team of Ian Frankel and Trevor Lien made it to the semifinal round.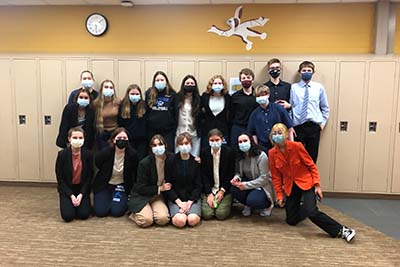 The varsity division is called the Minnesota State High School League Classic Debate State Festival, as the MSHSL sponsors the awards for this event. Before we get to the team results, we want to applaud two seniors who were recognized with all-state debate honors for their excellence over the entire season: Charlotte Bergh and Ruby Schwieger. In team competition, MPA had a strong performance. The team of Kaija Kunze-Hoeg and Jenna Sherwood broke to the quarterfinals, where, because of seeding, they had to debate their teammates, Charlotte and Ruby. The judges commented that it was a good round, and Charlotte and Ruby advanced. In the semi-finals, Charlotte and Ruby defeated an excellent team from Eastview High School, and in the finals, Charlotte and Ruby also debated well against another fine team from Eastview, finishing as the runner up.
A special thank you to all the alums who judged and coached for the team this season. In particular, Meg Wilkening '18 and Elli Carlson '20 deserve special recognition. These two alums were outstanding debaters and returned to the team to give back to MPA in ways that are hard to capture in words. This season, they coached over 100 students through the rigors of debate, teaching about research, speaking, and writing. We are fortunate to be the beneficiaries of their patient brilliance.
Go Panthers! Go Juggernaut!