February 10, 2021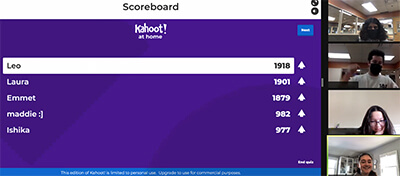 Without being able to gather together this year as they usually do, Upper School Peer Leaders have been creatively connecting with their seventh and eighth grade groups virtually. They met for the first time last week, splitting into groups based on interests, like current events, STEM, social change, and study skills. In the books and movies group, led by seniors Emmet Tanzer-Tragatsch and Ishika Muppidi and sophomore Lucy Cowen, students got to know each other and make connections through their favorite genres, types of media, and what's trending on Netflix right now.
Peer Leading is based on the belief that teens provide the first source of support for each other. At MPA, the Upper School Peer Leaders are trained to listen, reach out, maintain confidentiality, and be there when needed. Peer Leaders are also trained to know how to access other resources when necessary.
"I remember having my own Peer Leaders when I was in seventh grade, and how even just that interaction with an Upper School student helped me feel more comfortable around them, Ishika recalls. "I believe one of the most critical skills Peer Leaders has taught me is how to interact, communicate, and relate to others around me, essentially teaching me different ways to manage various relationships."
As a new student last year, Lucy attended both of the summer events that the Peer Leaders host for new students. After attending them, she was able to start off the school year already knowing her peers, which made the transition much easier, and her favorite part of being a Peer Leader now is connecting with new students in the same way.
"I had a ton of fun talking to the seventh and eighth graders during our first meeting. I also really love that MPA has a program like this," Lucy said. "I definitely think that this program has helped me understand what it means to be a good leader."