February 23, 2021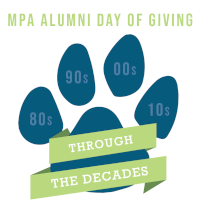 March 2, 2021 is your time to show your support for MPA students, faculty, and staff by participating in our Alumni Day of Giving. This year, participation matters more than ever before with our largest challenge yet! Through the decades, MPA students and alumni have embodied Panther Pride, and now you can share your gratitude by joining in on the annual day of giving. If your decade reaches 12% participation you will unlock a $2,500 challenge gift to support MPA's next generation. If all four MPA decades reach 12% then it will unlock an additional $10,000, totaling $20,000 in matching challenge gifts. Schedule your gift today!
Other ways to join in:
Share on your social media platforms
Contact your fellow alums to participate to ensure challenge gifts are received
Send a statement to alumni@moundsparkacademy.org of "Why you give!"
Share on facebook, Instagram and with Mounds Park Academy photos of you and your time at MPA
Thank you for your support of the MPA students of today and tomorrow!
Contact Jennifer Rogers, director of development and community engagement at jrogers@moundsparkacademy.org or 651-748-5532 with any questions or to discuss your gift.