February 4, 2021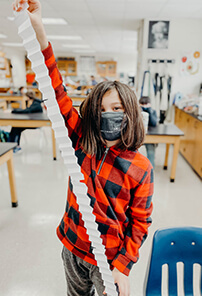 by Dr. Bill Hudson, head of school
On Sunday, we hosted a rather large number of prospective families for a virtual MPA Preview. During a panel discussion, I was asked by moderator Nate Bander, "How do you see the mission statement of MPA playing out every day?"
Truthfully, it was a difficult question to answer because I see the mission in action each day in a multitude of ways. Most of you know that I stand at the south entrance of the school every day to greet students as they enter the building. Admittedly, it is the best part of my day and I often joke that my day goes downhill from there. The joyfulness of students as they enter the building is infectious. They are excited about the day ahead, to connect with their classmates, and see their teachers. At most schools, students are excited to exit the school, for their day to be over.
After my door duty is over, I make the trek to my office at the other end of the building and I see the mission come to life in so many ways:
As I pass by the Makerspace, I may see a Lower School class joyfully problem-solving using manipulatives.
Crossing through the new Family Commons, I might encounter a Middle School science class sprawled across the space excitedly engaged in testing the laws of motion with wind-up cars they built.
I may stop in my tracks along the way to take in the beauty of new art gracing our hallways and stand in awe of the accomplishments of our students.
Sometimes I pause outside the band or orchestra rooms to take in and feel the beautiful music and close my eyes, wishing I had that opportunity when I was young.
I may have to watch where I am walking in the Upper School Commons to avoid interrupting a world history class that is sitting in a circle on the floor in the midst of an intense discussion of Jim Crow laws.
As I finally approach my office, I often hear peals of laughter coming from the Lansing Sports Center of children engaging in some creative, crazy named activity dreamed up to teach important lessons about wellbeing and teamwork.
The mission statement of a school is sometimes little more than nice words that grace a website or hang in an office. In a previous job, I worked at a national association of schools in Washington D.C. and I traveled across the country, visiting schools and conducting research. From my experience, it wouldn't take long after entering a school or a few minutes into a tour before I knew precisely what the mission of a school was. From the moment I stepped foot in the building when I interviewed for this position, I could tell the mission was fully embodied by teachers, students, and in the culture of MPA.
While living our mission over the last year has often been challenging, I believe it has only strengthened our resiliency and resolve. As we look to next year, I am confident that all students will be on campus for in-person learning and that we will once again welcome parents into our building. It is likely we will continue to have health and safety protocols in place, such as masks, proper hygiene, contract tracing, and limiting large gatherings, but I do not anticipate requiring physical distancing to the extent we have this year. Throughout the last year, teachers have successfully leveraged technology for the continuity of learning and to foster relationships. Moving forward, technology will be the springboard for further innovation.
The importance of in-person learning, synchronous hybrid learning, and on-campus rotation is becoming very clear. For instance, several recent studies have highlighted significant concerns regarding the loss of learning time for students during the pandemic. More specifically, students are receiving less direct teacher instructional time and less focused, actively engaged academic learning time. In a separate study, researchers found that 18% of students had no live instruction at all. I share concerns about the potential learning gap for students in many public schools, particularly for low-income and under-resourced students, and I hope lawmakers address the burgeoning lack of access and equity. And, I am grateful for the strong partnership that enabled MPA to advance learning and keep our community safe.
Living our mission will continue to be reimagined and reinterpreted as we boldly confront an ever changing and unpredictable world. What will not change, however, is that an MPA education will continue to be transformational, not transactional. Parents don't simply pay tuition; they enter into a powerful, mutual, partnership with the school. Students don't simply get good grades; they get a warm, welcoming, and kind environment in which to thrive, academically, physically, and social-emotionally. Teachers don't simply teach subject matter; they touch both the hearts and minds of their students. I hope you agree.