February 9, 2021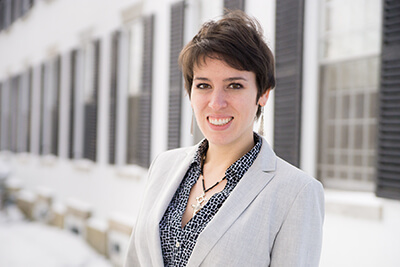 What are you currently doing, professionally and/or personally?
I am an Associate Professor of Linguistics at Dartmouth College, where my research focuses on documenting understudied languages (primarily of West Africa) and studying the relationship between language and music in "talking drum" traditions.
How did you get there? Where did you attend college? Are there some career moves or other key experiences or relationships that have inspired you?
I always loved languages (as faculty at MPA could attest to!). In college at Scripps College, I discovered the field of linguistics—the scientific study of how languages work—and knew it was exactly what I had been looking for. My wonderful undergraduate advisor did research with African languages, and after a class where we spent the term working with a speaker from Uganda, I was inspired to do fieldwork of my own. I received a Fulbright and spent eleven months in Mali after graduation documenting a Dogon language called Tommo So. Throughout my PhD program at UCLA, I continued taking trips, first to Mali, and later to neighboring Burkina Faso. I was lucky enough to get the job at Dartmouth in 2014 when I finished my PhD and I've been there ever since!
How did your MPA experience prepare you for your life today? How did MPA inspire you to dream big and do right?
I was a lifer at MPA, and so I was fortunate to grow up always having meaningful and personalized relationships with teachers. The teachers at MPA saw each of us as individuals and encouraged our dreams and our interests. I had taken French since kindergarten, but the school allowed me the flexibility to take Japanese 4 my freshman year of high school, and to take Spanish later on, which required some moving things around in the schedule! Having received that kind of encouragement and mentorship throughout school made me seek out those kinds of relationships with faculty in college, and now it is one of my greatest professional pleasures to pay it forward to my students here at Dartmouth.
What's next? Do you have any aspirations–personal or professional–that you'd like to share?
A year of being home and unable to travel in New Hampshire has led me to take up gardening, and chickens may be next (if I can find "chicken sitters" for when I'm in the field)! I have a new project on talking drums (and flutes and fiddles and trumpets….) that will hopefully take me all over the world to document these endangered traditions, when we can finally travel again.