April 1, 2021
b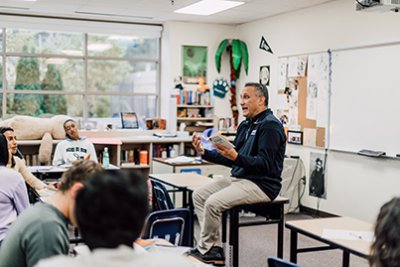 y Dr. Bill Hudson, Head of School
Each time I pop into the Office of Admission, they are excited to have recently welcomed another exceptional student home. After a tremendous year in 2020-21 with 113 new students and 27 midyear transfers, enrollment for the fall of 2021 is off to a great start. New student applications have nearly doubled year over year and enrollments are following suit. By all accounts, interest in MPA is an at all-time high.
The good news is that even with strong enrollment (MPA grew from 466 in 2019 to our current enrollment of 538), our average class size and student teacher ratio are here to stay. We are deeply committed to offering an intimate learning environment. This is a very important part of who we are.
MPA, like many independent schools nationwide, was previously under enrolled in a few grades. Of course, small classes are critical and they are likely one of the main reasons your family chose MPA, but too small of class sizes aren't healthy for students' academic experience, especially at the Lower School level. "When class sizes are too small in the Lower School, we run into challenges with socialization. A peer group that isn't big enough to support the social skills that students need to develop can be detrimental," says Lower School director Renee Wright. "Social emotional skills are so foundational in the lower grades, and so much of what we do is based around collaboration and group work. With a really small class, it is harder for students to interact with differing perspectives from other peers, something that we value tremendously."
There's a sweet spot. And for us, it's averaging 15 students in a classroom PreK-12 and an 8:1 student-teacher ratio. For comparison, Minnesota averages are nearly double this at 27 and 16:1, respectively. From additional opportunities for hands-on learning, to greater teacher access, to more differentiation, classes at this size provide the best possible learning environment for our students.
I recently asked a group of faculty members what they can do because of MPA's commitment to small class sizes. Naturally, the responses were fantastic and I'd like to share a few with you.
"Everything. We've been designing and testing wind turbine blades and measuring their peak electrical output. We've also been learning about circuits and applied this to creating a solar powered house and grid. Each student was able to have their own equipment and be actively involved in the hands-on building and testing for these projects. They also had easy access to me throughout the labs so I could teach them what they needed to know when they needed to know it." – Hannah Sullivan, Upper School science faculty
"So many things. We are getting ready to do our melodrama project in fifth grade. Students plan, write, act and film their own short melodrama. This collaborative work is very student centered, but I am there to help problem solve and facilitate. I cannot imagine doing this in a crowded room. Added to this, this class size gives us the space to move and act. The students aren't overwhelmed in a noisy room." – Heather Mastel, Lower and Middle School drama faculty
"To be honest, you can't teach writing with 30 students in a class. You can practice writing with very specific outcomes and cursory feedback, but if you want to teach writing, you must work closely with students on their work, include multiple drafts in the process, and make the feedback comprehensive." – Jason Schwalen, Upper School English faculty
"I can listen to every single child play a pattern back on their soprano recorders. It's amazing. Their classmates cheer for their successes and support them through their challenges. I can listen to every single child's idea for a collaborative movement piece. I can give individual attention to each child AND keep the flow of the class going!" – Mari Espeland, Lower School music faculty
It is not just anecdotes that govern our class size sweet spot either. It is research on long-term student success, too. A number of high-profile studies concluded that students in MPA-sized classes obtain higher test scores, are more engaged in school, and demonstrate better behavior. For example, Project STAR (also known as the Tennessee Study) found that an average student assigned to a smaller class had a reading score nearly eight percent higher than students in the medium-sized classes. The smaller-class students, on average, also achieved nine percent higher math scores. A report from the Policy Research Institute in Wisconsin determined that students in smaller classes in elementary grades perform better in a number of academically measurable ways: they record higher test scores, earn better grades, and display superior attendance.
One piece in the Wisconsin study particularly spoke to me. The study found that MPA-sized classes improve students' growth in "non-cognitive" abilities that are not necessarily noted on tests or report cards, like grit, drive, and confidence, but are all linked to success in academics and beyond. Seeing MPA students, I witness first-hand how their small class sizes lead directly to grit, drive, and confidence, as they grow up, graduate, and positively impact our world.
In the end, MPA's class size sweet spot ensures that students are known, understood, and seen by their teachers. They receive help when they ask for it, and they are encouraged to share their opinions and describe their perspectives. Middle School director Jenn Milam shares that our class sizes allow MPA teachers to know everyone in their classes, giving each student voice and presence. "Our class size allows teachers to know kids' social patterns, emotional needs, academic strengths and weaknesses, and the joys of their heart in a way that helps us connect with them in a more meaningful way."
Even with another banner year of enrollment success projected, MPA will always be the place where every child is known, loved, and understood.