April 15, 2021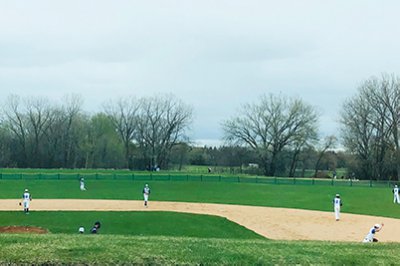 by Dr. Bill Hudson, Head of School
I often say I have one of the best views from my office. That is especially true this year and certainly at this time of year. It is not uncommon for me to see Upper School biology teacher Mitch Thomsen leading a group of students into our reclaimed prairie and rain garden to study its ecology and make observations. If I look in another direction, I can see the tents set up in the west parking lot ready to house classes and lunch. After school, I can take in a boys' tennis practice or witness the track and field teams trek out to the track.
After months of being cooped up indoors, Minnesotans (and Panthers!) are spending more and more time outdoors. In Minnesota, the arrival of spring is always cause to spend time outside, but it also makes sense as we aim to slow the spread of COVID-19. As part of our move to dial stop one, classes, whenever possible, will be held outdoors this spring. Teachers have access to outdoor tents which are being used as flexible, alternative spaces. Although we still need to take precautions, such as wearing masks, keeping physically distant, and avoiding large crowds, moving outside is certainly a breath of fresh air.
Earlier this week, fourth graders went out to "model" the molecular activity of different types of matter by using themselves in the place of molecules. What may have looked like children randomly running around the playground was actually an experiential learning experience. At times, students were a solid (still, keeping their shape), a liquid (moving a bit quicker, takes the shape of its container), and then a gas (rapidly moving molecules, fills the entire shape). Students added and subtracted energy to go from gas to liquid (condensation), liquid to solid (freezing), or solid to liquid (melting).
At this phase of the pandemic, going outdoors makes good sense for a number of reasons. The warming temperature, longer days, more sunshine, and higher humidity all make a difference in minimizing the risk of transmission. Since COIVD-19 is primarily spread by small respiratory droplets, the fresh air dilutes the virus and gentle breezes more easily disperse airborne particles. We now have a great deal more research than we did last summer and fall that indicates that most spread occurs indoors. For instance, one study found that 96% of cases were associated with indoor settings.
There are no teachers happier to move outdoors than our beloved music teachers, Mari Espeland and John Haberman. After a year of creatively adapting their curriculum and utilizing technology to "sing" online, they are eager for students to now safely sing together, in person. Mr. Haberman has turned the Benz Courtyard into his choir room so that students, double-masked, can spread out to ensure they are at least six feet apart. Ms. Espeland tells me that she is checking the Weather Channel multiple times a day so that she can utilize an outdoor singing classroom she has created outside the Gallery.
Mrs. Koen and Ms. Jaques have been taking the sixth graders in their Makerspace class outside to sand pieces for their "Shut the Box" game. Using recycled material, students are creating a game that can be played with friends and family. By moving outdoors, students deepen relationships while the sawdust flies into the air rather than into one of the filters in the Makerspace. In the weeks and months ahead, students will be spending more and more time outside. Second graders will soon be celebrating Earth Day and a science unit in our new garden outside the new library. We are also reimagining hallmark celebrations such as the Senior Walk and Graduation outdoors to safely include more students and family members.
As excited as we are to have all students back on campus, to sing again, and experience some sense of "normalcy," we must also remain vigilant. While the end of the pandemic is drawing near, we must continually remind ourselves that now is not the time to relax our standards. Even amidst the good news of vaccinations, the rise of variants continues. Be assured that MPA will continue to stay the course, and I very much appreciate your partnership as we successfully finish this school year.
The last week or so has not been ideal weather for outdoor education. Teachers, students, coaches, and athletes have all been dodging raindrops, and sometimes even snowflakes. However, we do know that the sun will come out and the temperature will rise. As the flowers push though the cold earth seeking sun and warmth to bloom anew, may we also enjoy the new and growing possibilities afforded by springtime.