April 22, 2021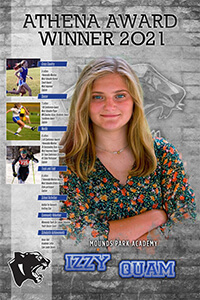 Congratulations to MPA's 2021 Athena Award Winner, senior Izzy Quam for committing to St. Michael's College in Colchester, Vermont for Nordic Skiing! A four sport athlete, Izzy competes in Soccer, Cross Country Running, Nordic Skiing, and Track and Field. She is a captain in each of her sports.  Izzy has accumulated 19 varsity letters in athletics, 9 All Conference or Honorable Mention awards from the IMAC conference, and countless team MVPs honors and coaches awards. She is also a stellar student who appears on the honor roll, has earned academic letters, and is a member of the Cum Laude Society.
"I have been fortunate to coach Izzy since she was a 7th grader. She is an absolutely tremendous kid, really among the best ever to come through MPA. Her combination of leadership skills, positive attitude, kindness, and athletic ability don't come along very often," says Panthers Cross Country Running and Track and Field coach Nate Bander. "I can't wait to see what great things await her as she heads off to college." Izzy joins her older sisters Erin (2017) and Ellie (2019) in winning the Athena Award.
Click here to read about Izzy and all St. Paul Area Athena Award winners.