April 8, 2021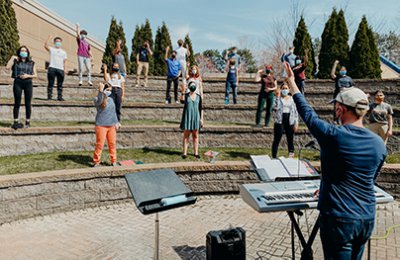 by Dr. Bill Hudson, Head of School
I'm generally not a competitive person—unless it is a board game or cards. So much so that my family will no longer let me play Sorry or Uno with them. They say I turn aggressive and vindictive, like Inigo Montoya in the "Princess Bride," intent on exacting vengeance on someone for having played a "Draw Four" card. Auctions bring out my competitive side as well, and I find myself throwing reason to the wind as I get caught up in a bidding war, much to the chagrin of my husband Ross. For the last several years, I've tried repeatedly to "win" a piece of artwork from alumni parent Heidi McKeown whose art I deeply admire and appreciate. Repeatedly, I fail. Fortunately, I will have another chance in just a few days.
Yes, it is that time of year with the annual MPA Spring Auction just a little more than a week away. On Friday, April 16, we will gather virtually from around the Twin Cities, the nation, and perhaps even the globe for our premier auction. More than just a fundraising event, the MPA Spring Auction is about celebrating our community, joining together to build relationships, and honoring every member of our community. There is so much to celebrate after a very trying and difficult year. A year ago, I promised that if we joined together and drew upon our MPA can-do spirit, we would emerge stronger and more resilient. As the end of the pandemic draws near and our school and society open up again, we know for certain that "The Best is Yet to Come."
We will gather together virtually again this year for an exciting evening with a few new twists. I am thrilled to announce that the live program will be led by our two emcees, seniors Ryan Ghose and Charlotte Milinovich, and will feature student speakers and performances. Know that the evening is a family-friendly event and all are welcome. There are a number of ways to get involved, such as joining the live program, registering to bid on a plethora of silent and live auction items, purchasing a "Golden Ticket," serving as a sponsor, buying a Drink Kit, and by spreading the word by inviting friends and extended family to take part. There is no cost to participate in the program, or one of the auctions, but pre-registration is required.
Bidding for the Silent Auction opens next Wednesday, April 14. Hundreds of community members and area businesses have already joined in to create our 170+ item silent auction that appeals to every interest and budget. Live auction items include a trip to Florida's space coast and tickets to the Kennedy Space Center, and an escape to Colorado over MEA weekend. Golden Tickets are back by popular demand! This is your opportunity to win one of our amazing Live Auction items for only $150! Purchase one of 100 Golden Tickets that will be drawn during the Spring Auction program (not necessary to be present to win). Win one of the fabulous packages worth thousands of dollars. You select which Live Auction item you would like to win. Golden Tickets are available for purchase now.
This school year has truly been a year unlike any other. The MPA community has rallied together in so many ways, and the heart of our success is the partnership shared between those at home and those on campus with one goal in mind: our students. This year we have heard so many heart-warming stories about the ways in which the dedication and hard work of our faculty and staff have made an even bigger difference than it ever has before. MPA employees have been working double-time in so many ways to make our mission stronger and more vibrant than ever.
Through this year's Fund A Need, the MPA Spring Auction Committee Members invite you to show how grateful you are for the incredible teachers and staff members who have made on-campus and virtual learning possible. Your gift will be provided directly back to teachers and staff in the form of a gift of gratitude. MPA employees can use this special bonus any way they wish: covering unexpected expenses, treating themselves to a self-care day, replenishing their coffee and snacks fund, or countless other activities or goodies they might have missed during this challenging year. I encourage you to show your appreciation and love for the hard-working teachers in the classroom and staff throughout the building who show up every day to make learning impactful for every student.
Speaking of hard work, I am grateful for the work of our outstanding volunteer committee members: Lisa Vale, Tara Lafferty, Billi Jo Aamodt, Jennifer MacDonald, Jenn Boyle, Leslie Todero, Sarah Cotter, Renee Roach, Lucia Gray, and Melissa Andrisani. Additionally, I must thank our amazing development team for reimagining a wonderful event that raises much needed funds and builds community.
Even though I wish we could all join together in person, the chance to see one another on Zoom while maintaining physical distancing and health and safety for our community is a wonderful opportunity. Please consider joining me to celebrate "The Best is Yet to Come" on Friday, April 16 (I promise to keep myself in check!).