April 9, 2021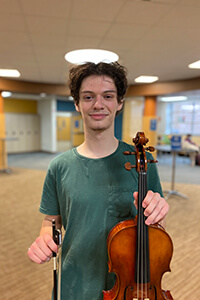 Music, particularly singing, has provided me with an opportunity to grow and learn. I attended Minnesota Waldorf School through 8th grade, and music is a significant component of Waldorf education. I learned to play the pentatonic flute in first grade, the C flute in second grade, the viola in third and the Alto recorder in fifth grade. Singing was an everyday activity in elementary school but I didn't really enjoy it until my freshman year of high school at MPA.
When I made the switch to MPA, music was one of a activities that felt most familiar and comfortable to me, so I decided I would take varsity choir. At the end of my freshman year, my family encouraged me to audition for Madrigal Singers, MPA's most select singing group. Getting in to Madrigal Singers ignited my love for singing and gave me the opportunity to express myself. Since that point, I have been in Concert Choir and Madrigal Singers for the last three school years, and I have auditioned for, and been accepted to the MMEA All-State Honor Choir the last two years. Singing provides me with an opportunity to confidently express my emotions in a way no other activity has been able to do. I am able to channel my feelings into music through my voice. This has made it much easier for me to open up to those around me and establish close relationships with classmates, and even with students from other schools, who I have met through our shared love of music.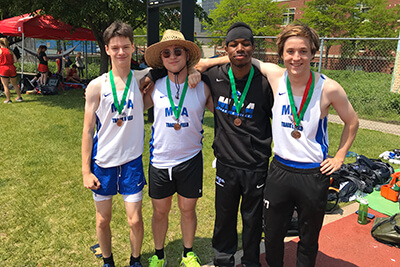 You have been involved in a lot in your time at MPA in addition to singing, orchestra, honors and AP classes, theatre, and sports. How have your various coaches, teachers, ensemble directors, etc. helped you balance all of that and been accommodating when you have conflicts?
One of things that drew me to MPA was the opportunity to be involved in so many types of activities. The teachers and coaches encourage students to pursue many different interests and work together to help resolve scheduling conflicts. For example, when I participated in Spring Show and Track and Field, the theater director scheduled my blocking and rehearsals for February and March, prior to the start of track season. I have also been allowed to miss sports practices to attend my weekly viola lessons and teachers are very flexible when it comes to extensions for activity related conflicts.
How has music made you a better student or better person?
Music has really helped me feel confident and given me a way to express myself in ways that other activities cannot. A big component of music, and of many preforming arts, is effectively channeling your emotions into your performance. Whether that's a scene in a show or a phrase in a song, learning to express yourself through the arts is a great way to feel more confident and open. I also love that music helps improve my mood. Whenever I am feeling overwhelmed or upset, singing and playing music always helps me to center myself. It helps me to be more composed and therefore a better student and person.
What would you say about the music program to a student considering MPA?
I would tell a prospective student that my music teachers have been truly inspiring, and that you will meet some of the closest friends you will ever have through MPA's music programs. Music was one of the activities that felt most familiar to me coming to MPA, and because of music, I was able to feel so much more comfortable in the new environment. I would also definitely encourage anyone on the fence about taking music in general or auditioning for the higher-level music programs at MPA.
What are your plans for next year?
I will be attending Washington University in St. Louis next year where I plan to continue my passion for music, especially choir.
What's a big dream you have for your life?
I hope to attend medical school after college. I would like to have a fulfilling job in the medical industry while being able to find time to pursue the hobbies and interests I love. I hope to be able to continue my musical career as long as I can.