May 27, 2021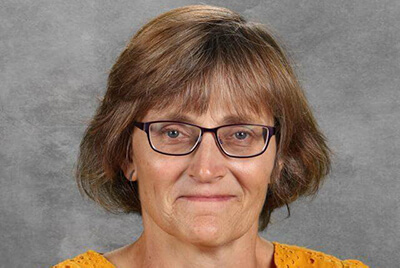 by Dr. Bill Hudson, Head of School
As the school year hurries to a close and we look forward to celebrating the graduating Class of 2021, we are also celebrating two employees, payroll and benefits administrator Karen Widerski, and Middle School math teacher Dan Ethier, who are graduating on to other endeavors.
Karen came to MPA in the 2012-2013 school year after a long and successful career in human resources at Target Corporation. In her time at MPA, she has made wonderful impressions with colleagues. Rose Wick, who works alongside Karen in the business office, shares, "Karen is a true friend, the most hilarious person I have ever worked with." Other coworkers describe Karen as "awesome," "a hard worker," "fun," and "humorous."
Karen purchased her father's home on Child Lake in Hackensack, MN, where she will surely continue to the throw the best fourth of July party on the lake, complete with a fireworks show. She is very close with her family and will enjoy spending more time with her husband Jim, daughter Jess, and son Keith. Her father and brother live nearby as well. Karen is a pet lover who has raised several black labs, including her current dog, Jax. Up North, Karen will get to continue her love for the outdoors, especially, snowmobiling and cross country skiing, and she'll have lots of time for the annual family trip to the Caribbean each winter.
"Karen came at a time when there was much change at MPA. She brought an amazing sense of calm and confidence, and she is always willing to do whatever it takes to get things done," says CFO Gina Wallraff. "She is a major team player with an amazing can do attitude. We have relied on her tremendously and she just takes care of things. She will be missed."
We all wish Karen a wonderful and happy retirement.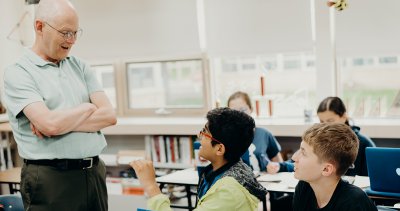 Dan Ethier joined MPA in the fall of 1992, and for 29 years, has been a fundamental part of the Middle School, as well as a highly successful and much loved cross country running and math league coach.
In the classroom, Dan exemplifies MPA's experiential, hands on approach to learning. He built his curriculum on solving rigorous problems and he's an expert on crafting open ended problems that require his students to apply their deep content knowledge in creative ways. Rather than giving students problems that have a clear, procedural approach, Dan instead sought ones where the methodology was not obvious nor straight forward from the start.
Dan's problem solving approach connected academic rigor to real world concepts. Whether it was learning about investing and interest or measuring the depths of craters on the moon using trigonometry, his students have found themselves solving problems that apply mathematics to life.
Dan's personal sense of curiosity and love for learning made him a great teacher as well. "Students ask good questions. I make sure to spend time pursuing those questions and demonstrating interest in them," he says. "Sometimes I raise the questions myself. It's about being curious myself and letting that spill over into the lesson."
Though a math teacher, Dan fiercely advocated for all subject areas, and especially championed the fine arts. "The arts allow students to see the world in new and different ways, and that new vision will allow them to apply their science, technology, engineering, and math knowledge with the creativity and innovation our 21st century world needs."
In the end, what most propelled Dan to the upper echelons of the teaching profession was his knack for truly getting to know each student he came across. He was known for writing a comment on every problem that a student answered incorrectly with advice on where they went wrong.
"Dan has been, and always will be, a cultural icon of sorts in the Middle School. From his silly stuffed animals, to his dry sense of humor, students have come to know math and themselves better in this great big world," says Middle School director Jenn Milam. "We will all be better for having shared this journey with Dan–his passion for mathematics and teaching is out-matched only by his passion and love for Middle Schoolers."
Dan also poured his heart and soul into Mounds Park Academy cross country. He took over the program in its infancy, and through his guidance and passion, turned it into a perennial contender and one of MPA's most successful athletic programs. He took three teams to the state meet, placing as high as second in 2013, earned section 4A coach of the year honors in 2008, and coached six all state-athletes and two state champions.
Dan's connection to his team is clear. He is invited to and attends nearly every graduation party, creates individualized race plans for each varsity runner at every meet, writes detailed recaps of each race, and is a true master of making everyone on the team, from state champions to sixth graders, feel welcomed, included and special. It's no wonder that so many seniors on the team ask Dan for a letter of recommendation when heading off to college.
Dan coaches the right way, with humor, care, and respect. He instills a terrific work ethic in every athlete and transforms a sport that some find monotonous and difficult into something enjoyable and rewarding. Whether it's the annual run to Dairy Queen, the game of "Foxes and Hounds" or the professional quality end of season banquets, Dan brings joy, sportsmanship, and camaraderie to the team.
As Dan moves on from MPA into retirement, I hope he will get to enjoy more time with his passions outside of MPA, including drone photography, distance running, astronomy, app development, and current events. And I know he will always be rooting for the next generation of MPA runners.
Please click here to leave farewell messages and well wishes for Dan and Karen!