June 3, 2021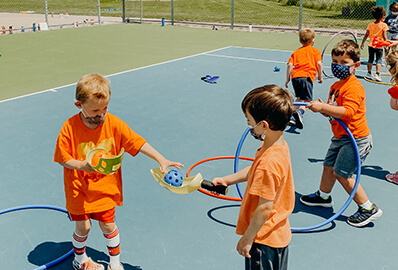 by Dr. Bill Hudson, Head of School
"It was the best of times, it was the worst of times, it was the age of wisdom, it was the age of foolishness, it was the epoch of belief, it was the epoch of incredulity, it was the season of light, it was the season of darkness, it was the spring of hope, it was the winter of despair." –Charles Dickens, A Tale of Two Cities
As we close out the school year, I couldn't help but think of the prologue from "A Tale of Two Cities" by Charles Dickens. The series of paradoxes in the prologue rang true as I reflected upon this past year. We are living though one of the most extraordinary moments of our lives when just about everything has been turned upside down and called into question. Who could have imagined all that we would be faced with this year—a world-wide pandemic, social unrest, political discord, and racial reckoning?
If the pandemic has been a paradox, then this school year has been nothing less than a triumph. In the midst of darkness and despair, we found light and hope, resiliency, and perseverance. And while I sometimes take it for granted, I am reminded that is no simple feat to remain open throughout the school year and preserve the continuity of learning. It is true we've had our share of challenges and low points; our community is stronger and more resilient than ever.
In my first Panther Post message of this school year, I quoted author Diane Coutu who observed that resilient people possess three characteristics—a staunch acceptance of reality; a deep belief, often buttressed by strongly held values that life is meaningful; and an uncanny ability to improvise. As I reflect upon this school year, I believe that our school and students have certainly demonstrated these characteristics. Resiliency and perseverance will be the legacy of our collective journey this year.
Even as this school year draws to a close, the Administrative Team has been hard at work throughout the spring planning for our next school year. Like we did at this time last year, we began by naming the values that would guide all decision-making, beginning with the health and safety of our community, on-campus and in-person learning, and a joyful, whole-child hands-on, experiential, exceptional learning. While there may be some necessary mitigation strategies, we will be monitoring the guidance from the CDC and Minnesota Department of Public Health throughout the summer and adjust plans accordingly. However, as vaccination rates climb higher and higher and young children begin to be vaccinated, fewer and fewer health and safety measures will be needed.
This is certainly a week to celebrate and I am pleased to bring back so many of our time-honored traditions, such as Kindergarten Graduation, Moving Up Ceremonies for the fourth and eighth grades, Lower School Vocabulary Bee, Track and Field Days, and Yearbook Assembly. On Saturday, we will bid farewell to a group of amazingly talented leaders and students who I am certain will continue to dream big and do right in all that lies ahead of them.
I want to thank you for entrusting your children to us. I also want to express my gratitude for investing in the school and our faculty and staff through your philanthropic giving. I am continually in awe of the generosity of our parent community and the strong partnership we have. Have a wonderful summer and I look forward to coming together again in August.