June 30, 2021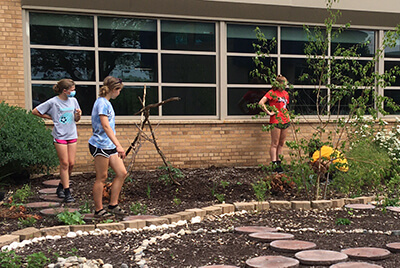 This past year, our community volunteers found so many creative ways to stay connected and involved. Many found their time and love pouring into one of the newer additions to campus–our library gardens. Since the gardens just turned one year old this summer, this year is the first time that it has had volunteer tending to its plants and foraging its vegetables. While there are currently five dedicated parent volunteers, more recently, several Upper and Middle School student volunteers are spending their time taking care of our beloved outdoor space, too!
"The energy is wonderful. Cassie Atkinson has spearheaded the organization of things like the watering schedule (which is no small feat!), she has brought ideas and she even brought her Mum along, who spent a good couple of hours weeding," said MPA parent and volunteer Michelle Mick.
MPA students Cassie Atkinson, Kenzie Binstadt, Zoe Mulvihill, Annika Binstadt, Samantha Forgosh, and several others have all been giving their kindness, dedication, respect, creativity, and joy to the gardens this summer. We (and the parent volunteers) are constantly impressed with their commitment. Cassie, a rising junior, has been working in the gardens and brainstorming new ideas to help it grow and develop. She was inspired to include a medicine wheel garden, which construction has already begun on. She is now researching the plants that can grow in it.
Each time they meet on Monday and Thursday mornings, the group has so much fun together. "Having these volunteers has given me such hope in the future," said Michelle. "If my children grow to be even a tenth of what these high school students are, then I will be a very happy Mum."