July 19, 2021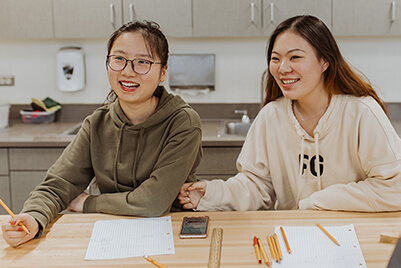 Do you have room to spare? Space in your heart for another family member? A desire to expand your family's perspective of the world? MPA is seeking host families for several international students for the 2021-22 school year.
Our new students this past year found great success, experiencing near-daily "firsts," and are loving their MPA journey. Between the adults in their school and home lives, our students feel supported, nurtured, and loved while living so far from their families. This is vital to their success and the strongest testament to everything our MPA host families and staff do to care for our international students.
For you, some aspects of hosting a student are conveniently streamlined: you are already familiar with the expectations of MPA teachers, able to access the people or materials you need to support yourself and/or the student, an advocate of the MPA mission, and able to extend general MPA savviness to your student. While each of these characteristics contributes to your readiness to host, your knowledge of MPA—its daily schedule and calendar, the support structure and people, its culture and expectations—is invaluable in helping the students acclimate, answering their questions, and coordinating the logistics of family life alongside their school one.
As you and your family consider hosting, I have attached the MPA Host Family Recruitment Flyer and Host Family Application to provide some discussion points and general information. Additionally, below is a bit more, purely logistical information. This is, by no means, an exhaustive list of everything you'll need to know about hosting an international student, but it may answer some of the initial questions you have and prompt additional ones as well.
Transportation
Host families are responsible for providing transportation to and from school and school-related activities.
Host families are responsible for providing transportation to and from the airport when the student travels.
Host families will work with their student in scheduling rides for social events.
Stipend
A 10-month stipend of $9,000 will be directly deposited in equal installments of $900/month on the first of each month for the previous month, September through June.
An early installment of $500 will be deposited on August 1 in preparation of your student's arrival; the remaining $400 will be deposited on September 1.
The daily stipend rate of $30/day will be taken from and disbursed to host families who are providing respite care for a student, as needed.
Meals
All international students will receive the MPA school lunch. Host families and students do not need to pack lunches.
Host families are responsible for providing two meals on all weekdays and three meals on all weekend days.
Arrival
New-to-MPA students are being asked to arrive to the USA and Minnesota by August 1, 2021.
New students will have New International Student Orientation on a day for the week of August 16-20 (More information about this will be sent to individually to new international students).
Returning MPA students will probably arrive on/near August 1 as well in case post travel self-quarantine restrictions are still in place, preparing for the first day of school on August 25.
In hosting an international student, you and your family have a unique opportunity to bring the language, culture, and perspective of another country into your home, allowing for a truly rich, intercultural experience. The students will love to share their lives with you while becoming a part of your family, exploring Minnesota, and enjoying MPA student life at the same time.
I hope you'll consider opening your hearts and homes to one of our international students! Give it some thought, and if interested, please reach out to me for additional information and/or to begin the process of becoming a host family. I would love to have a conversation with you!
Thank you so much for considering,
Cory Becker-Kim
International Student Program Coordinator
Advanced Language and Culture Teacher
cbeckerkim@moundsparkacademy.org