August 2, 2021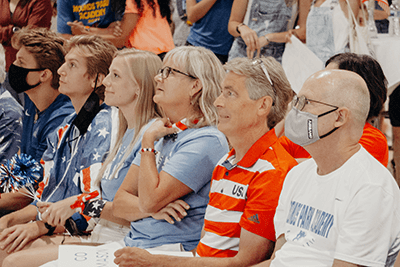 Mason Ferlic '11 Competes in Olympic Games 
MPA community members from alumni, faculty, and current families gathered to celebrate and support Mason's olympic accomplishments. We launched the event with pizza and 'Go Mason' poster making, then concluded with a personal FaceTime from Mason after he crossed the finish line. The Ferlic family and the rest of the MPA community expressed their immense pride and happiness for Mason as we wished him a restful remainder of his evening. Enjoy this reflection piece written by Nate Bander '09, one of Mason's teammates and click through our photos from that night.
by Nate Bander, Class of 2009
Mason Ferlic ran a near personal best in the 3000m Steeplechase at the 2020 Tokyo Olympics on July 30, placing 21st in 8:20.23, an exciting and historic day for MPA! Mason came to MPA in ninth grade and joined the track and field team in his first year. He found success right away, and his coaches and teammates encouraged him to sign up for cross country running. The problem was that he was already registered for soccer! But, with a little arm twisting, he decided to give cross country a try. The rest is pretty much history, he went on to win four MSHSL state championships, break three school records, and appear on MPA's track and field top 10 list 11 times (though fun fact, Nolan, his younger brother, appears 13).
After graduating from MPA in 2011, Mason competed for the University of Michigan as the first of what have now become four MPA track and field athletes to compete at the Division I level in the last 10 years, all in the Big Ten Conference. He won the 2016 NCAA steeplechase championship and after graduating from Michigan with Bachelor's and Master's degrees in Aerospace Engineering, he is now pursuing a PHD in Applied Statistics, which he does while training with Very Nice Track Club in Ann Arbor.
Shortly after qualifying for Tokyo, Mason sat down with letsrun.com and talked about his last few years running competitively. It's clear listening to that interview how much MPA's philosophy on balancing academics and athletics impacted Mason. He said "I fully believe in this pendulum aspect of the sport, having balance outside of it. There are times where I really hone in on track, and the development of my craft, but at the same time, there's periods throughout the season where you can develop yourself as a person. My academics take the pressure off the Olympics. They aren't a distraction from my running, they compliment it. For me, there's a balance and it's worked really well." A very MPA perspective indeed.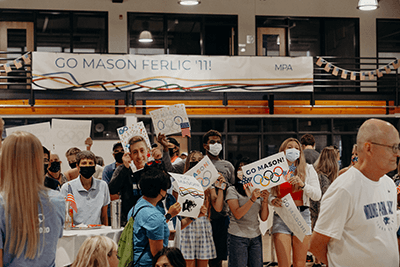 Among those who deserve recognition for Mason's success are his high school coaches, Bev Docherty, Dan Ethier, and Dan Haase. Mason ended the letsrun.com interview saying, "The thing that goes underappreciated is all the coaches that have helped me throughout the years, Daniel Ethier, Bev Docherty and Dan Haase. Every single person there (and he listed his college and professional coaches too), deserves some type of credit." And then, fighting back tears, he said, "I am just really appreciative." Thank you to Dan, Bev, and Dan, for making an impact on so many athletes, we know you're among Mason's biggest fans.
At the beginning of this year's MPA track and field season, Mason was asked what advice he had for track and field athletes. He shared, "Persistence is crucial. Only you can determine how good you can be. Success in this sport is not always linear. Nobody starts a winner but everyone can achieve improvement. Set high expectations and lofty goals, and have the mindset of being the best version of yourself."
Mason has shown the entire MPA community how to be the best version of yourself. He is an inspiring example of where dreaming big and doing right can bring you. Congratulations on being an Olympian, Mason, we're all behind you as you continue in your career.
Mason in the Press