September 21, 2021
Rex Hendrickson '11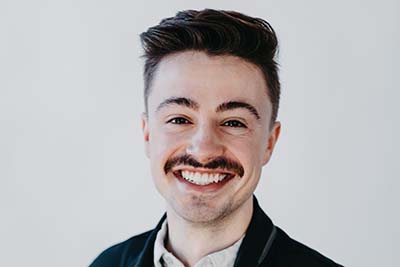 For what grades did you attend MPA?
K-12
Why did you choose to pursue a position on the Alumni Association Board?
I wanted to get more involved in many aspects of my life. I wanted to engage with the world around me and the world I know. I know MPA quite well after being there for 13 years – it seemed like a natural way to get involved and a way to give back.
In what ways do you see yourself as a supporter of MPA and its mission?
I believe, deep down, we all know what doing right is. We all have our own unique role to play, which gives us purpose and direction. I support MPA's mission in passing on that wisdom to its students and encouraging them to dream big and do right.
What are you currently doing, professionally and/or personally?
I am an account director at a brand strategy agency called vnzo. We work with other companies to create differentiation in the marketplace – how to claim their own space and increase marketshare. We strategize to come up with solutions; we incorporate that into their brand; and ultimately, grow through marketing.
How did you get to where you are in your career? Did you attend college and if so, where? Are there some career moves or other key experiences or relationships that have inspired you?
I attended the University of Denver for a couple years before moving back to MN to start working. I worked a few odd jobs before meeting a good friend of mine with whom we started a company together. Now, that company is no longer, it started to make me think in an entrepreneurial way and that has been exciting to see.
How did your MPA experience prepare you for your life today? How did MPA help you dream big and do right?
I think one of the major takeaways from MPA was the notion to think for myself. To be learned and to stay curious – to keep dreaming for something bigger and better for my life. MPA also taught me to do the right thing, to have my own moral code and ethics to live by. To have this personal set of rules that governs me and every one of my choices. I think that compass started at a young age.
What's next? Any aspirations – personal or professional – that you'd like to share?
I would like to continue to work hard and keep my head down. I enjoy personal development and seeing where consistency can take you. I would also like to travel again but for now, home is where I need to be.
What do you to see happen during your time on the Alumni Association Board?
I would like to see MPA continue to grow as one of the premier private education systems in MN.
Please share your favorite MPA story.
My favorite MPA story has to include my time on the soccer team. Going to the state tournament my sophomore and my senior year were memories I will hold close to home.