September 30, 2021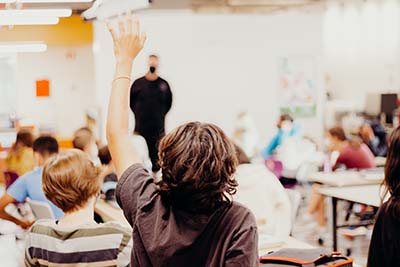 from Dr. Bill Hudson, Head of School
Love Actually is one of my favorite movies. I love the opening scene of the movie, which takes place in Heathrow Airport in London. As pictures of families greeting friends and loved ones at the arrival gate are shown, the British Prime Minister, played by Hugh Grant, provides the following voiceover:
"It seems to me that love is everywhere. Often, it's not particularly dignified or newsworthy, but it's always there: fathers and sons, mothers and daughters, husbands and wives, boyfriends, girlfriends, old friends. When the planes hit the Twin Towers, as far as I know, none of the phone calls from the people on board were messages of hate or revenge – they were all messages of love. If you look for it, I've got a sneaky feeling you'll find that love actually is all around."
It sounds cheesy and idealistic but I do agree that love is all around us if we are willing and able to see it. I often share that the best part of my day is greeting students at the front entrance of the school each morning. It's somewhat like the opening scene in "Love Actually" but instead of an airport arrivals gate, it's like the front door of a home. Home. A place of comfort, love and belonging, of family. For so many of us, MPA is much more than a building or a school. We come together around a common set of values and beliefs as well as a passionate commitment to educate the whole child.
As a parent, I have experienced just how significantly this school is a home for our students. It is a place to be comfortable enough to make challenges feel achievable, to be recognized for the full breadth of your individuality, and to foment relationships that do not just demonstrate care, but also mutual respect. Our small class size is an important factor to helping students feel this way. Small class sizes allow teachers to really get to know their students, not just academically but also personally. As you will soon find out at upcoming parent-teacher conferences that begin this week, you will be surprised just how much teachers know about your child and how much they care.
You are probably aware that we are in the midst of celebrating Homecoming this week at MPA. While not a tradition unique to us, Homecoming takes on a distinctive meaning at MPA, especially as a PreK-12 school. While our Homecoming celebration is looking a little different again this year as a result of our pandemic safety protocols, there is plenty of school spirit and love to go around. The disruption caused by COVID has sparked creativity once again and students across all three divisions are enjoying a number of special events uniquely suited for their age and grade level. Middle School Game Day, a Lower School Homecoming Spirit Photo Booth, an Upper School BBQ and outdoor dance, free t-shirts for every student, and special dress up days are just some of the fun activities this week.
Merriam-Webster defines homecoming as, "the act of returning to your home or to a place that is like your home." Many of us, students, staff, and faculty, think of MPA as our home away from home. Like a home, it is a warm, nurturing environment where students find the confidence and courage they need to live joyful and productive lives. It is a place that is built upon acceptance, care and concern, and a place where all are safe. That is certainly something worth celebrating. Happy Homecoming!
Be sure to visit the MPA website for the most up to date information on homecoming festivities!