September 9, 2021
from Dr. Bill Hudson, Head of School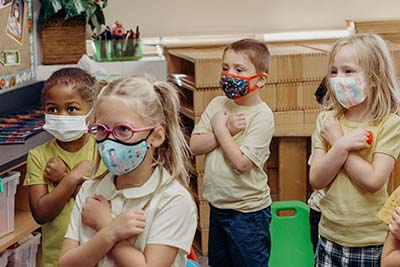 On Wednesday morning I had the pleasure of attending the first Lower School CHAMP assembly of the new school year. If you are not familiar with CHAMP, it stands for "Character Happens At Mounds Park." My day began greeting students as they entered school wearing a rainbow of designated colors unique to their grade level. The assembly would ordinarily take place in person, but instead students gathered via Zoom to engage joyfully in song, learn about the attribute of the new year, and listen to a book read by librarian Nancy Lage. Afterwards, classroom teachers invited students to share their thoughts and experiences on the theme.
Now in its eleventh year, the CHAMP program will continue to focus on its primary philosophy of guiding students to act with a specific set of traits to produce responsible citizens. As explained by Renee Wright, Lower School Director, classes will continue to focus on the eleven attributes in order to endorse real-life application of Friendship, Compassion, Respect, Inclusiveness, Courage, Self-control, Responsibility, Cooperation, Mindfulness, Integrity, and Perseverance. The focus this year will be on being accountable and students will focus on being accountable to self, family, school, and community.
Accountability is an obligation or willingness to accept responsibility for one's actions and understand the impact these actions have on others. While it might seem somewhat of complex terms for a lower school student, lower school teachers did a marvelous job in connecting accountability to responsibility. One teacher described a very robust conversation in her third-grade classroom that centered on the importance of trust as the connector between responsibility and accountability.
As we begin a new school year, I was struck by the appropriateness of accountability for the CHAMP program theme as well as for mission accountability. MPA is entrusted to educate the whole child– academically, physically, socially, and emotionally. In this context, accountability invites members of the community to share in the process of assessing the success of our mission and verify "we are who we say we are." The school is accountable to our students and families, our community and society, alumni and benefactors, to the Board of Trustees, and ultimately, to one another.
Assessment is a means of measuring performance and demonstrating accountability. It illustrates how well we are accomplishing our mission, values, program, etc. to educate the whole child. Through an integrated system of standards and of multiple forms of evaluation, assessment measures beliefs, attitudes, competencies and behaviors which are expressions of mission, content knowledge, physical, social and emotional growth, student achievement (both individual and group), and the learning and teaching environment.
Mission accountability depends on assessments that are quantitative and qualitative, formal and informal. These measures are a means of demonstrating accountability as well as driving continuous improvement. As the third-grade students highlighted, accountability is essential to earning and maintaining trust. In order for true accountability and trust, there has to be transparency. I took a moment after the CHAMP assembly to brainstorm just a few examples of accountability measures that are regularly communicated to our larger community:
annual reports
financial, legal, environmental, and safety audits
graduation and retention rates
post-secondary admissions
parent/teacher conferences
civic and community engagement
professional certification
ISACS accreditation
report cards
satisfaction inventories
climate and culture surveys
standardized testing such as the ACT
parental involvement
I like the simplicity in the definition of accountability offered by Henry Evans, the author of Winning with Accountability, "Clear commitments that—in the eyes of others—have been kept." As we begin a new school year, I invite you to join me in keeping our commitments to one another and building upon the MPA culture of accountability.