September 9, 2021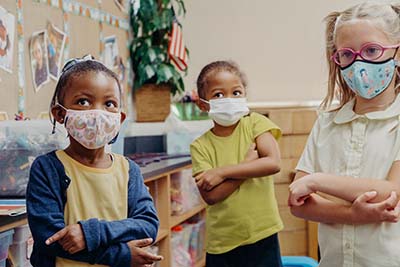 from Renee Wright, Lower School Director
Our first CHAMP assembly took place on Wednesday, September 8. I am excited to share that our focus for this school year will be on ACCOUNTABILITY.  Students will practice using CHAMP character traits to be the best version of themselves on campus, at home, and in their community. They will learn the importance of making good choices and take responsibility for their words and actions. At our assembly we were all inspired by the book, "I Am Human…A Book of Empathy," by Susan Verde and illustrated by Peter H. Reynolds. Being human means we are full of possibility.  We learn, dream big, and wonder. At times we make mistakes but learn from them. We mindfully strive to act with compassion and empathy to others and ourselves.
As a follow-up to the CHAMP assembly teachers led a community circle in the classroom to talk about being responsible. Students shared their thoughts and ideas to the following questions:
What does it mean to you to be responsible?
What have you done in the past week that shows responsibility?
Encourage your child to be responsible at home. Being responsible is an important quality for school success. You can help your child develop these qualities by establishing reasonable rules and procedures in your home and reinforcing them consistently. Expecting your child to complete simple tasks or chores is important to building responsibility. Break jobs down into smaller steps and praise your child's efforts. Children feel good about being contributing members of the family.
Parent and School Partnership
Mark your calendar for parent/teacher conferences. Please see the dates below when conference times will be offered.
Thursday, September 30–3:30-7 PM
Thursday, October 7–3:30-8 PM
Friday, October 8–8 AM-4 PM (No Classes)
You will receive a communication soon from the Lower School Office with information on how to sign up for a conference. Please make attending conferences a priority. Conferences are extremely important and provide teachers the opportunity to team with parents to help students be successful.  Lower School homeroom conferences are scheduled for 25 minutes and specialists conferences are scheduled for 10 minutes.
After-school Pick-up Name Request
If you pick-up your child in the drive-up lane after school it would be helpful if you would place a sign with your last name on the dash, so it is visible in the window on the right side of your vehicle. This will help speed up pick-up procedures. Thank you in advance for your attention to this new procedure!
Dates to Remember 
Monday, September  13: Picture Day
September 27-October 2: Homecoming Week
October 20-22: No Classes/Fall Break