September 9, 2021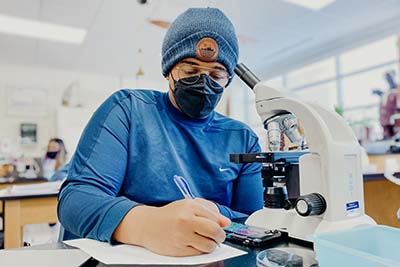 from Mark Segal, Upper School Director
Renowned independent school child psychologist, speaker, and author Michael Thompson has spent part of his career providing information about the value of building and maintaining strong relationships. Dr. Thompson shares that having, "a unique bond with one special person can seem, in a word, magical. This feeling is perhaps felt even more by the child exploring their first relationships beyond the family unit." Originally, this caught me by surprise. I would have thought that having many close friends was an important part of adolescence as with many strong and close relationships a student's circle of influence would be larger. As I thought more about this, however, I began to realize that Dr. Thompson was speaking about the value and importance of authentically real and trusting relationships between students.
At MPA, we often refer to ourselves as a large family, and during the first two weeks of the school year one of the main foci of our teachers and students has been to build relationships with others in both their classes and advisories. For those Upper School students and families new to the community this earnestly began with two gatherings in mid-August where new students met with Peer Leaders on campus. They ate pizza, played games, and toured the building. A week later, new families and Peer Leader families gathered over a BBQ dinner under the big top on the south lawn and deepened the relationships built at the student gathering.
Since the start of the school year the Upper School has held a number of community touch points for students to build and strengthen their relationships. Weekly Monday Morning Meetings are held on the first day of each week (even if it is not a Monday) to bring the full Upper School student body together. Students in grades 9-11 meet on Fridays in their advisory groups (made up of 10-12 students) and find ways to connect with one another and their advisor. Seniors meet as a full class and discuss ways in which their relationships are strengthened as they look ahead to their final year at MPA. And just last week, the ninth grade went an all-day field trip to Afton State Park and played games, went on hikes, and did art projects as a way to unify the Class of 2025 and to look ahead to their next four years in Upper School.
The Making Caring Common Project through Harvard University reported out data last February that shared 36% of all Americans–including 61% of young adults–feel serious loneliness. The Project suggests that to address this, "we must build a physical and social infrastructure in which we must reimagine and reweave social relationships" and "work to restore our commitment to each other and the common good." The MPA Upper School is committed to providing opportunities for students and faculty to build genuine and authentic relationships which will, in turn, lessen the possibility of our community members to feel lonely and without someone to connect.
I look forward to seeing you on campus soon!
Mark Segal
MPA Covid-19 Symptom Response
As we continue to navigate the ongoing challenges of the pandemic, we ask for your diligence in working with our Covid-19 symptom response and contact tracing team. At the first sign of symptoms, parents should complete the daily AUXS app symptom screening and/or email covid@moundsparkacademy.org. When a negative Covid-19 test is required for student clearance, results must be provided prior to the student's return. All symptomatic community members, regardless of vaccination status must remain at home pending those results. Thank you for your partnership. For any questions, please contact Jennifer Rogers at jrogers@moundsparkacademy.org.
Looking Ahead
Mon, 9/13: All School Picture Day
Tues, 9/14: Concert Choir Rehearsals, 6:15-9 PM, on campus
Thurs, 9/30: Upper School Conferences, 4-7 PM, via Zoom
Fri, 10/1: Upper School Homecoming BBQ & Bonfire, 5-8 PM, Benz Courtyard
Sat, 10/2: Homecoming, all day, on campus
Wed, 10/6: Class of 2022 Cum Laude Induction, 7:30 AM, location TBD
Thurs, 10/7: Upper School Conferences, 4-8 PM, via Zoom
Fri, 10/8: No Classes, Upper School Conferences, 8AM-4 PM, via Zoom