January 10, 2022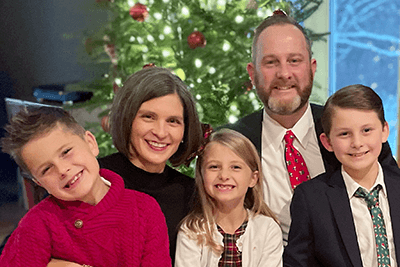 How many years have you been part of the MPA community?
Just this one!
What do you love about MPA?
We love how well the faculty and staff have truly gotten to know our children in just a few short months. The small class size has been a wonderful fit for all of our children. Both of our kids in the Lower School feel seen, known, and loved in their classrooms. Their teachers have been able to design goals and opportunities around their specific needs. Our Middle Schooler has been given the opportunity to explore a plethora of new opportunities this year, which has been wonderful. Overall, we just feel like our kids are in very good hands when we drop them off everyday!
What initially attracted you to MPA? 
We love that MPA encourages our children to develop and explore multiple interests simultaneously. The strong triad of an education rich in academics, arts, and athletics really drew us towards MPA.
If your child has attended another school, how has your experience at MPA been different?
We really can feel the difference between a small class size of 12-13 students versus our public school experience where classes sizes were 20-30 students. This has allowed our kids to have much more participation and attention from their teachers.
What would you tell another family considering MPA?
I'd encourage anyone who thinks they may be interested to contact the admissions team and learn more. There are so many unique opportunities MPA can provide, and you should really come see it for yourself!
In what ways has MPA prepared your child for life in the 21st century? What are the key attributes, skills, and content that you find most valuable?
Our kids have not only the opportunity but the requirement to try new things (sports in physical education, Makerspace activities, band/orchestra, drama, etc). Much like a liberal arts collegiate experience, kids get a bit of everything to find their true passions while gaining an excellent education. They have great technology tools and instruction, STEM-based instruction embedded into the curriculum, the chance to explore the outdoors (recess, garden club, field trips, and more), and a very stable environment that encourages growth and risk taking. Most importantly, kids are really taught and nurtured to be good people who are continuously learn and help others.