January 13, 2022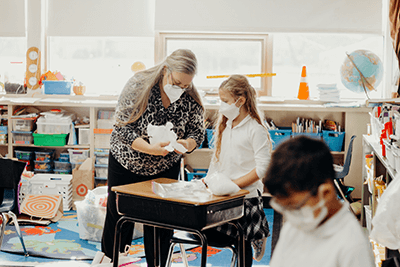 from Renee Wright, Lower School Director
PreK–Grade 6 Students Remain On Campus
As you have already learned by now, Dr. Hudson and the Administrative Team have made the difficult decision to shift to virtual learning in grades 7-12 starting Wednesday. The intent is that everyone will return to campus on January 24. This change does not impact Lower School. Students in grades PreK-6 will remain on campus. We know our little ones learn best in person and I am grateful that we are seeing fewer cases in Lower School, in part because of their more recent vaccine eligibility. The shift of grades 7-12 to virtual learning will reduce the density and exposure risk on campus for Lower School students as well. We will continue to monitor cases in grades PreK-6 very closely and will shift on a grade-by-grade basis, if essential. Students who are at home due to choice or illness, are being provided personal learning plans so that they may continue to learn asynchronously. We are being very attentive to mitigation strategies to ensure the health and safety of everyone on campus. These strategies are listed below:
Mitigation Strategies in Place
Encouraging the use of N95 or KN95 masks. These masks are available on campus for our students.
Less mixing of classes will occur and group and partner work will be minimized.
More attention to keeping students 6 feet apart whenever possible.
Further enhanced cleaning of their classrooms will begin.
Scheduled handwashing and restroom breaks.
CHAMP Assembly On Wednesday This Week
The CHAMP theme for the school year is accountability. Part of being accountable is self-regulation and self-control. Making good choices and thinking before saying or doing something is an important part of self-control. First Graders shared a delightful message with everyone in Lower School about self-control. All students did follow-up activities in their classrooms to reinforce the concepts learned and will practice their self-regulation skills on a daily basis.
Myles Moore Joins Lower School
MPA has hired Myles Moore, an experienced paraprofessional, as an assistant teacher serving in Lower School classrooms. This added support for our youngest learners will help us provide more one-on-one attention to make up the progress students may have lost due to the impact of Covid-19. Myles came to MPA through the upper school basketball program. His most recent school experience has been in the Osseo School District. Upon reviewing his resume, we were intrigued by his experience. Myles will work in grades K, 1, and 2. His schedule will be determined based on the specific needs of students.
Mark Your Calendars
The Great Kindness Challenge will take place the week of January 24 -28. Students will be bringing home kindness checklists the week of January 17. Our Lower School students will put the "I" in Kindess by doing random acts of kindness at home, in school, or out in the community. Students will log their kindness acts on the checklist and return it to school after January 28.
Parent/Teacher Zoom Conferences will be held according to the schedule below:

Thursday, February 3 at 3:30-8 PM
Friday, February 4 at 8 AM-4 PM (No Classes)
Thursday, February 10 at 3:30-7 PM
Parents will have the opportunity to sign up for 25-minute conferences with their child's homeroom teacher and 10-minute conferences with specialists.

The Used Uniform Sale for January 26-28 has been cancelled due to Covid-19. We are hoping to reschedule it for late February when we can invite parents on campus to shop in person for uniforms. I am very sorry for the inconvenience this may cause our parents.
Looking Ahead
January 17: No Classes–MLK Day
January 18: No Classes–Professional Development Day for Teachers
January 24-28: The Great Kindness Challenge in Lower School
February 3: Conferences 3:30-8 PM
February 4: No Classes–Conferences 8 AM-4 PM
February 10: Conferences–3:30-7 PM
February 18: No Classes–Professional Development Day for Teachers
February 21: No Classes–Presidents' Day