January 13, 2022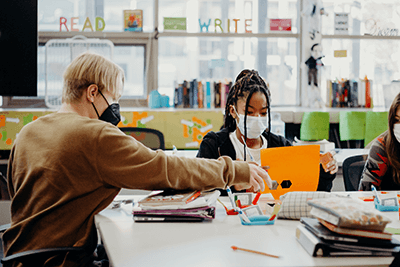 from Dr. Jenn Milam, Middle School Director
Our covid environment is a lot like a giant rollercoaster and that rollercoaster has highs and lows, twists and turns, each day and sometimes moment to moment. So, too, are our emotions and, most especially those of our young people. While we cannot control the environment around us, we can control our response to it—so I'm asking you all to help your students "buckle up" for the loops and bumps in the next few weeks as we navigate this surge and find our way back to the loading platform, all together!
For my younger middle families who are still on campus:
Please continue to be diligent about symptom monitoring. The omicron variant of this virus is sneaky and quick—watch for stuffy nose, scratchy throat, and headache.
More, do your best to limit high-risk activities and exposure points as best you can—not just for you, but for those around you. The key to our remaining on campus is limiting spread within our community and we need your help for that to happen.
Enjoy the time on campus with a little more room to wiggle.
To our big kids and their grown-ups:
Symptom monitoring, even at home, is critical! If your student or you are experiencing any viral symptoms, please us know. Tracing, tracking, and ensuring that exposed folks are quarantining for required amounts of time, help us to return safely.
Remember, as I shared on our Zoom the other night, please take some time to schedule in advance a Covid-19 test toward the end of next week ahead of our January 24 return date. While most sources are outlining this surge will soon pass, we don't want to come back to school, together, and find ourselves right back in this spot.
Enjoy the time at home—I know that seems weird to say and virtual school is not easy, and not as fun or awesome as being on-campus, but there are some perks in the short term. More time to sleep, more snuggles with pets, better snack options, and, as we approach the end of the quarter, a long weekend to look forward to!
As we approach the long weekend, please note that we do not have school on Monday, January 17, in observance of Dr. Martin Luther King, Jr. Day, nor on Tuesday, January 18, for a teacher professional development day. Grades 7/8 will remain virtual for the rest of next week, while 5/6 will resume classes, on campus, Wednesday, January 19.
End Of Quarter 2
Tomorrow, Friday, January 13, is the end of Quarter 2. Please try today and tomorrow, and even over the long weekend, to review Schoology with your students to make sure they have submitted all assignments, have taken advantage of retakes/re-do opportunities, and reach out to teachers if you have any questions or need clarification!
NOTE: Availability of grade reports for Quarter 2 will be delayed from Monday, January 24 to Monday, January 30. We have made the decision to allow teachers and students a bit more flexibility and time to wrap up Quarter 2 with both our shift to quarter two and in acknowledgement of the impact of Covid-19 cases on our students and families. We hope this will help to ameliorate any negative impact on student's academic standings that may be brought on by their own illness or that of a family member.
Winter Parent/Teacher Conferences—Coming Soon
On Friday, you will receive an email from me outlining dates, registration, and scheduling instructions for the upcoming Winter Conferences. Conferences are not mandatory, but highly encouraged and we will hold conferences via Zoom, again.
Upon receiving the email with Pick-A-Time registration details, please pay close attention to the deadlines, open registration times, and the closing of the system. Once the registration system closes, we will not be able to schedule any additional conferences.
Conferences Dates:
Thursday, February 3, 3:30-8 PM
Friday, February 4,  8 AM-4 PM, NO CLASSES FOR STUDENTS
Thursday, February 10, 3:30-7 PM
iTerm Fees Are Being Assessed Through TADS
All iTERM fees for iTERM 2022, will be assessed via TADS. If you have any questions, please let us know.
Grade 5 Music Share–New Date
Given our increase in mitigation measures this week and the turn of our MPA dial, we made the decision to postpone our treasured Fifth Grade Music Share. The new date is Thursday, February 17. We will welcome parents and guests (two per family, only) to the performance from 2:20-3 PM.
If you have questions, please feel free to reach to one of our amazing music teachers!
Middle School Athletic Pause
Out of an abundance of caution, all Middle and Upper School sports have been paused until Monday, January 24. For those students participating in Junior Varsity/Varsity athletics, those decisions are being made by individual sports. If you have any questions, please reach out to Dan Haase, Athletic Director.
Important Repeat Item—Homework & Late Assignments 
We have been working very closely with your Middle School students to complete all outstanding assignments before the break, so that they can fully enjoy the time away. It is our policy not to assign homework/new work to be done over the break; however, if your student has outstanding work, they will need to complete that in the first week of break.
It is also important to know that we have a two-week grace period for late assignments. A student has two weeks from the assigned due date to submit a late assignment; thereafter, the grade becomes a zero. With winter break being two weeks, anything not submitted before we return, within the two-week grace period, will not be accepted. Please check-in with your middle schooler and make sure they are all caught up.
Boosters For All Ages 12 & Up
All children ages 12 and older are eligible for Covid-19 booster shots. We highly encourage those who are eligible to schedule and obtain their booster shot. Per our recently published guidance, we soon will only consider a student "fully vaccinated" if they have received their booster (as they are eligible). If you need assistance in locating a booster shot in the Twin Cities, please reach out to Jennifer Rogers and her team, by emailing covid@moundsparkacademy.org.
A Note About Mental Health & Young People 
Many of our students are experiencing increased sadness, anxiety, depression, and anger—things we don't typically experience with our young people that fall outside of what we would consider typical pre/teen waves of emotion. National trends are suggesting that more young people are acting out in ways that are uncharacteristic and often, often worsened by social media and isolation, not to mention living through the wildest period of uncertainty in a global pandemic. Adults are having a hard enough time regulating their emotions and social interactions, can we imagine how hard it must be to be young and uncertain in this time? Of course!
Please let me encourage you, as a school leader and parent, if your young person is exhibiting severe lack of motivation, loss of interest in activities previously enjoyed, becoming more isolated, more irritable, and having trouble sleeping (or sleeping too much), you should consider a conversation with them about what they are experiencing and be open to seeking outside support. A good rule of thumb, shared by both Ms. Cooper and Dr. Nolan, is that if their emotions/sadness/anxiety is interfering with their ability to do regular day-to-day activities and interact well in the most basic of ways, it is time to reach out to a mental health professional for support. It is also important to normalize feelings–all emotions are important and real, no matter how we see them from the outside, as grown-ups. It's important to acknowledge, affirm, and then act, where needed.
Now, more than ever, our kids need us to listen without reframing, and work to process with them. Try not to assign your meaning to their emotions. Just like when they were three and having a tantum in the grocery store, they need words to identify their emotions, strategies to shift, and then coping skills and practices to bolster their own well-being. If you need resources for adolescent mental health support or find yourself needing some guidance, please reach out to our school mental health professionals. They are a wealth of knowledge, experience, and compassionate care for young people.
Raising safe, healthy, and happy kids takes a village—and we are glad you are part of ours!
Important Dates
January 17: Dr. Martin Luther King, Jr. Day of Observance, No Classes
January 18: Teacher Professional Development Day, No Classes
January 19: Quarter 3 Begins, Conference Scheduling Opens
January 30: Release of Quarter 2 grades (delayed)
February 3: Winter Conferences, 3:30-8 PM
February 4: Winter Conferences, 8 AM-4 PM, No Classes
February 10: Winter Conferences, 3:30-7 PM
February 17: Grade 5 Music Share, 2:20-3 PM