January 13, 2022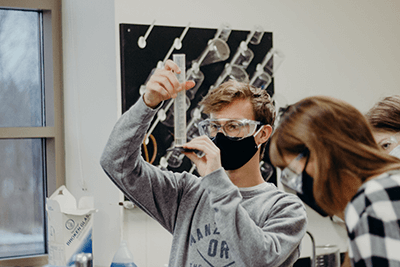 from Mark Segal, Upper School Director
Those of you who drop off your children at school each morning know that Mr. Comfort, Mr. Haase, and I are at the north door eagerly awaiting student arrival, regardless of the temperature, daily. This morning, however, was different. The shift to virtual school left me missing this important part of the day. Welcoming and checking-in with students as they arrive at school is as important for me as it is for them. Their face mask covered smiles and high-fives help me start the day on the right foot and help me establish the right mindset for the day ahead.
I am confident that the time away from on campus, in-person learning will help to stop the current spread of COVID impacting the MPA student community. Just because we are not physically together does not mean that we will forego the important human connection that is part of the MPA ethos. According to the Collaborative for Academic, Social, and Emotional Learning (CASEL), "those with strong social-emotional skills are better able to manage daily challenges and advance academically and socially." Although we will be physically distanced for the next few school days, we will continue to focus on building these social-emotional skills to connect us socially.
As we look ahead to the next week, teachers will check in with their students and advisees to see how they are doing and gauge if they are in a cloudy, rainy, or sunny disposition. We will meet via Zoom as a community next Wednesday (January 19) to kick off the second semester and third quarter with a Wednesday edition of our weekly Monday Morning Meeting. Important information will be shared, laughter will happen with the Student Council facilitated Monday Morning Memo, and Mr. Comfort will grace us with one of his "groan-worthy" jokes.
Please remind your student that they should follow their regular schedule and plan to "attend" each of their classes synchronously. This does not include any scheduled study halls. As if we were meeting in person, attendance will be taken at the start of each block and students should be dressed appropriately and ready for class. Please make sure your student has set aside an appropriate, well-lit workspace (NOT their bed) to attend class. Computer cameras are required to be turned on and pointed at your student's face.
We have been in this position before and I am certain that we will be successful as we navigate virtual school for this short period of time. I am confident that if we all do our part in the short-term, we will be back together for the long-term!
I will miss seeing your students enter the school building (but not the frigid mornings) and look forward to seeing them (and you) on Monday, January 24.
Important Information
I am excited to welcome Ms. Rachel Westmoreland as the Upper School and College Counseling Administrative Assistant. Rachel has more than twenty years of experience working in office administration in the real estate, marketing, and financial management industries. Recently, she served as the Health Office and Covid Coordinator at Academia Cesar Chavez (ACC). Rachel can be reached by email at rwestmoreland@moundsparkacademy.org or phone on 651-748-5544
As we continue to navigate the ongoing challenges of the pandemic, we ask for your diligence in working with our Covid-19 symptom response and contact tracing team. At the first sign of symptoms, parents should complete the daily AUXS app symptom screening and/or email covid@moundsparkacademy.org. This should happen BEFORE seeking a Covid-19 test. When a negative Covid-19 test is required for student clearance, results must be provided prior to the student's return. All symptomatic community members, regardless of vaccination status must remain at home pending those results. Thank you for your partnership. For any questions, please contact Jennifer Rogers-Petitt at jrogers@moundsparkacademy.org.
Please take seriously the request to limit high-risk activities outside of school. That can include, but is not limited to, sleepovers, large gatherings, in-restaurant dining, travel, and club athletics.
Please make every effort to proactively schedule a Covid-19 test late next week so that as we approach our return date of Monday, January 24, students have been tested (and hopefully receive a negative test result!) with the goal of doing all we can to re-enter our community healthy and well.
Looking Ahead
Friday, 1/14: End of Quarter 2 & Semester 1 Classes
Monday, 1/17: No Classes, Martin Luther King, Jr. Day
Tuesday, 1/18: No Classes, Professional Development
Wednesday, 1/19: Start of Quarter 3 & Semester 2
Friday, 1/21: Winter Show, 7 PM, Black Box Theatre (likely moved to 1/28)
Saturday, 1/22: Winter Show, 7 PM, Black Box Theatre (likely moved to 1/29)
Monday, 1/24: Return to In-Person, On Campus School
Sunday, 1/30: PK – 12 Virtual MPA Admission Preview, 2–4 PM, via Zoom
Monday, 1/31: Spring Musical Auditions, 3:30–5 PM
Tuesday, 2/1: Spring Musical Auditions, 3:30–5 PM
Wednesday, 2/2: Spring Musical Auditions, 3:30– 5 PM
Friday, 2/4: Upper School Classes DO MEET (Lower and Middle School conferences)
Wednesday, 2/9: 10th Grade Deep Portage Field Trip
Thursday, 2/10: 10th Grade Deep Portage Field Trip
Friday, 2/11: 10th Grade Deep Portage Field Trip