January 18, 2022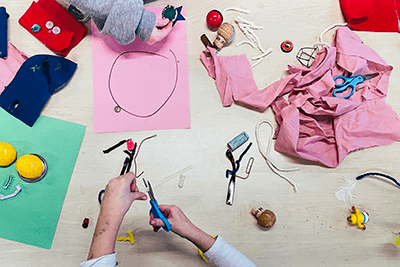 If you are familiar with MPA, then you are probably also familiar with the AnnMarie Thomas Makerspace. Electrifying in its concept and its form, this area of the school houses the intersection of creativity and innovation. The Makerspace is the physical manifestation of MPA's long-standing belief that learning should be hands-on, experiential, and joyful.
Keith Braafladt, MPA's technology and innovation teacher, has already found himself right at home in the Makerspace during his first year as a faculty member. As a new friendly face on campus, Keith has dedicated this year to developing strong relationships with MPA teachers to integrate and deliver the best Makerspace curriculum and experience to our students. Curriculum that exists in the Makerspace connects liberal arts thinking with 21st century skills and competencies, providing students with opportunities to construct meaning through making via practical, hands-on, interdisciplinary, and problem-based projects. Most often, the work is centered around the design thinking process, a systematic way to solve real-world problems that major corporations use in the workplace.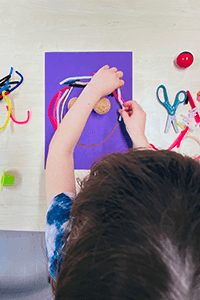 One of the most memorable projects to occur in the Makerspace this year is still adorning the outer windows of the room, prompting those who pass by to pause and share a smile that is reflecting back at them. The activity was informally and aptly named "making faces," because that is precisely what Lower School students did. Essentially, they observed, looking for faces out in the world. And under Keith's model, the idea was to use all of the donated, found, and collected materials at the students' disposal in the Makerspace to create a face out of everyday objects themselves. Keith has friends at the Exploratorium in San Francisco that have been doing a similar activity that inspired this one.
"They try to discover the pattern recognition," he explains. "You can really talk about the development of a child when they notice facial structure. They make a face, and then they put the materials back, and make another face. We didn't have them make a finished 'thing' and we would take pictures in progress as they iterated," Keith said. "They would place things down and then yell for us to come over and take a picture, and what they were doing I think was aesthetics–but it was also them learning how to share the materials, be inspired by someone next to them, get an idea, or realize, 'that's what an eye looks like' and 'how can I define the line of a mouth.' It was pretty amazing just how well it worked."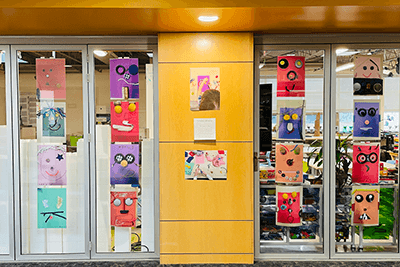 MPA's intimate size and commitment to collaboration enables us to effectively deliver a strong STEAM education, and the approach to STEAM reflects our approach to education overall. While this activity celebrates the development of young student's ability to observe, recognize, and execute, it also weaves in three pillars of an MPA education–science, art, and character. What may seem like an unlikely trifecta is actually a continuous theme in our classrooms. STEAM (science, technology, engineering, art, and math) does not leave art behind, rather, embraces it as an essential part of the exploration process. And together, they require the character skill of empathy that students exhibited when mirroring emotions in the eyes, mouths, eyebrows, and even dimples that they assembled in their work.
The project didn't actually require any materials to be consumed in the end, which helped the entire lesson fit into the paradigm of "reuse and recycle" meets collaboration and cooperation–a lesson for life that fit all implicitly in this very simple, yet profound, activity.